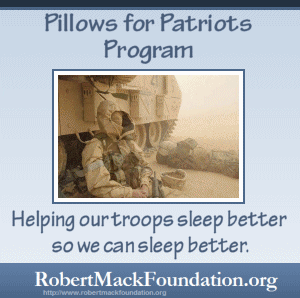 Memorial Day: Don't forget those slaughtered on the U.S.S. Liberty
By: Devvy
May 31, 2010

Today is one of remembrance and prayer for those who made the ultimate sacrifice in service of this republic: Our veterans.

Sadly, it is not for millions:

"For Americans in general, we have lost the significance of "Memorial Day."

"For the majority it is a paid holiday, a time for a barbecue, the weekend to watch the "Indianapolis 500" or for the "first dip" into the pool.

"Would those brave American men and women that paid with their lives in the Ardennes, Normandy, Sicily, Anzio, Iwo Jima, Okinawa, Korea, Vietnam, Iraq, Bosnia, Afghanistan, and other areas of the globe, to protect our democratic society turn over in their graves if they could see the way we observe 'Memorial Day' now?"

I have been to Arlington National Cemetery. It is a quiet, humbling experience walking among all those gravesites. "The grave of William Christman, a Private from the 67th Pennsylvania is the oldest military grave at Arlington. Christman was laid to rest on May 13, 1864."

From enlisted to officers like Audie Murphy, Arlington National Cemetery remains the resting place for our own and we pay tribute to them equally.

Today, thanks to dedicated volunteers, about 260,000 American flags will grace Arlington. Many tears will fall upon the millions already shed: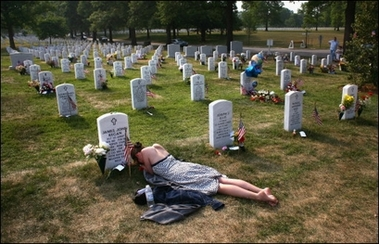 John Moore, photographer
If you're ever in the Washington, DC area, I hope you will take the time to visit Arlington as well as the other historical monuments. If you can't, I would like to recommend a very beautiful "coffee table" book which graces our living room.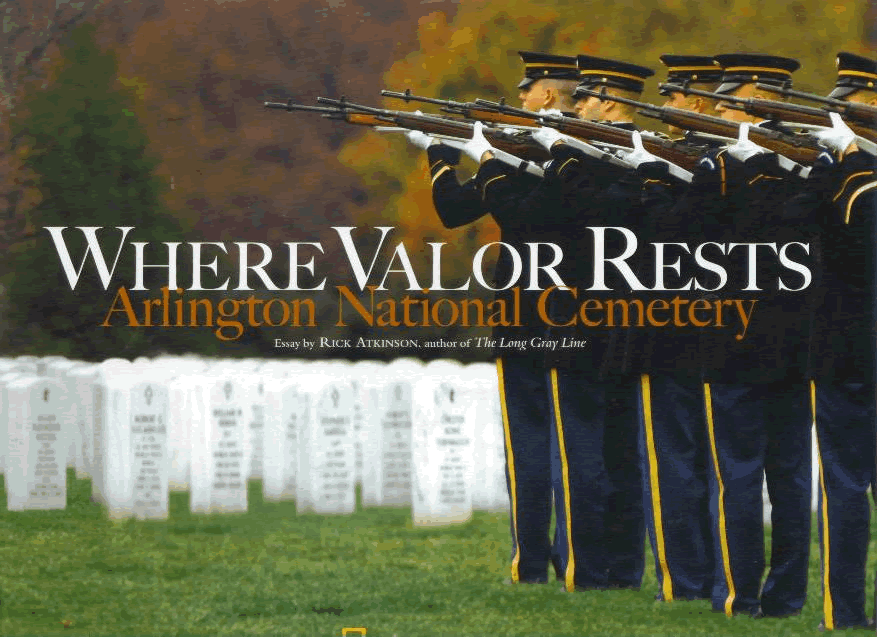 Where Valor Rests can be ordered here.
Here in my small town in West Texas, the VA hospital about a mile away from my home will be adorned with the American flag and our citizens will come out to pay their respects. It never gets easier. Thank you to all the dedicated Americans in all 50 states who are keeping the memory of our veterans in our hearts on this day.

This column isn't a political statement. It's not about agreeing with a war or being against one. There is a time and place for everything. I simply want Americans, as they do remember our veterans from all the wars, to also remember others who don't get mentioned much or at all on this day.

The 34 Americans slaughtered on the U.S.S. Liberty, June 8, 1967. 173 navy personnel were also badly injured. Last week on my radio show I interviewed Phillip Tourney, a petty officer on the U.S.S. Liberty during the attack. It was painful to listen to what happened that day. The U.S.S. Liberty was waving three American flags at the time of this act of war. There was no mistake it was an American Navy vessel. Let us not forget those 34 Americans and their families for which the suffering never ends.

Our POW/MIAs

Thousands of our soldiers from the Korean War and the Viet Nam "era" were deliberately left behind by "our" government. That is a fact. The pain for all those families and friends never goes away because they do not know what happened to their loved one.

I hope all of us will not forget our POWs and those still listed as MIA as we remember all our veterans on this day.
Devvy Kidd authored the booklets, Why A Bankrupt America and Blind Loyalty; two million copies distributed. Devvy appears on radio shows all over the country. She left the Republican Party in 1996 and has been an independent voter ever since. Devvy is a constitutionalist who believes in the supreme law of the land, not some political party.

Visit Devvy's website at: http://www.devvy.com. You can also sign up for her free email alerts. Devvy's radio show broadcasts Mon-Fri. To listen, go to: http://www.devvy.com/new_site/rense_show.html
Copyright © 2010 Devvy Kidd
All rights reserved.