May 6, 2006
Due to an overwhelming amount of work on current events, no recent postings to this page have occurred. We hope to get back to regular postings in the future. Thank you for your understanding and your continuing dedication to saving America.
February 11, 2006
If Clinton had done what Bush has done since 9/11, Republicans all over this country - including cash cows like Rush Limbaugh and Shallow Shawn Hannity - would be screaming the roof down for his impeachment. What hypocrites. No doubt these party hacks think this is also a good idea:
GOP Wants to Create Secretive Gov't Agency

By Andrew Bridges
Associated Press Writer
Dec 02, 2005

WASHINGTON - By creating a federal agency shielded from public scrutiny, some lawmakers think they can speed the development and testing of new drugs and vaccines needed to respond to a bioterrorist attack or super-flu pandemic. The proposed Biomedical Advanced Research and Development Agency, or BARDA, would be exempt from long-standing open records and meetings laws that apply to most government departments, according to legislation approved Oct. 18 by the Senate health committee.

Those exemptions would streamline the development process, safeguard national security and protect the proprietary interests of drug companies, say Republican backers of the bill. The legislation also proposes giving manufacturers immunity from liability in exchange for their participation in the public-private effort.

"We must ensure the federal government acts as a partner with the private sector, providing the incentives and protections necessary to bring more and better drugs and vaccines to market faster," Sen. Richard Burr, R-N.C., said when the Committee on Health, Education, Labor and Pensions approved the bill.

The agency would provide the funding for development of treatments and vaccines to protect the United States from natural pandemics as well as chemical, biological and radiological agents.

But it is the secrecy and immunity provisions of the legislation that have alarmed patient rights and open government advocates. The agency would be exempt from the Freedom of Information and Federal Advisory Committee acts, both considered crucial for monitoring government accountability.

Full column here:
* * * * *
I guess Bush hasn't gotten the memo yet:
THE TICKER

Record-high filings top 2 million in 2005 in race to beat new law

From Tribune news services
January 11, 2006

WASHINGTON -- The rush of consumers to file bankruptcy before a tough new law took effect pushed personal filings for 2005 to their highest annual level on record, more than 2 million, according to new data.

Significant increases in consumer bankruptcy filings occurred in every region, according to the data released Wednesday by Lundquist Consulting Inc., a financial research outfit based in Burlingame, Calif.

It tallied 2,043,535 new filings last year, up 31.6 percent from 1,552,967 in 2004, meaning that one in every 53 households filed bankruptcy petitions, according to the company.

The new law, bringing the most sweeping overhaul of the U.S. Bankruptcy Code in a generation and making it harder to erase debts in bankruptcy, took effect on Oct. 17.

In anticipation, personal bankruptcy filings jumped in September to the highest on record. They averaged more than 9,000 a day, up roughly 50 percent from 2004's average daily volume, during the first two weeks of September. By contrast, Lundquist analysts noted a sharp drop in the number of filings since the Oct. 17 deadline.
* * * *
PARENTS: JUST SAY NO. STAND UP TO THIS BULL - THIS IS CONDITIONING YOUR CHILD TO BE LITTLE BETTER THAN CATTLE
VOLUNTARY TODAY MEANS MANDATORY TOMORROW
By Laurie Sullivan

TechWeb.com
Jan 23, 2006

When a parent arrives to pick up their child at one of three grade schools in the Freehold Borough School District, they'll need to look into a camera that will take a digital image of their iris. That photo will establish positive identification to gain entrance into the school.

Funding for the project, more than $369,000, was made possibly by a school safety grant through the National Institute of Justice, a research branch of the U.S.

Department of Justice. "The idea is to improve school safety for the children," said Phil Meara, superintendent, Freehold Borough School District, on Monday. "We had a swipe-card system that operated the doors, but the technology was obsolete."

Installation of the iris technology began in October. The system is now operational after two months of testing. The Teacher-Parent Authorization Security System (T-PASS), a software application developed by Eyemetric Identity Systems, was installed on the front office computers at each of the three schools.

It took software engineers about nine months to develop the platform. Two technicians were hired by the school board to provide IT support for maintenance and updates to the platform. School participation in the 18-month study is voluntary.

Parents who have children that attend any of the three schools in the district, teachers who instruct students attending classes at the locations, and staff employees are assigned access rights. Each child can have up to four adults approved in the system.

The platform provides entry-access controls, visitor management and the capability to scan a driver's license from 50 states and automatically import the information into the database. "The file size created when the camera takes a picture of the iris to match it against records in the database is about 512 kilobytes," said Raymond Bolling, co-founder of Eyemetric Identity Systems, a spin-off of New Jersey Business Systems Inc., which specialized in biometrics identification.

The system takes a digital photograph of the iris, the color portion of the eye, each time a parent, teach or administrative and school employee gains access to the school. "The algorithm can map out up to 242 unique points in the iris," Bolling said. "A good fingerprint patch is anywhere from seven to 22 points."

The algorithms for iris scanning are licensed through a LG Electronics from Iridian Technologies Inc. The software keeps a log and digital record or any visitor entering the school, which replaces a four-column paper spreadsheet.

Global biometric revenues are projected to grow from $2.1 billion in 2006 to $5.7 billion in 2010, which includes iris scanning, according International Biometric Group. Iris scanning is emerging, albeit slowly. The research firm said iris recognition revenues are estimated to exceed $250 million by 2008.

Eyemetric developed and deployed the iris recognition system using IrisAccess iris recognition cameras and software from LG Electronics, and Tailgate Detection Alarm Recording (T-DAR) anti-tailgating system from Newton Security. The hardware supporting the application is Hewlett-Packard & Co.'s ProLiant DL140 servers, along with HP dx5150 desktop PCs with Advanced Micro Device (AMD) processor, and Access Point for wireless networking from ProCurve Networking.
---
February 10, 2006
This female didn't like my 'Slap the King - Expect to Die' column. She sent her opinion of me out to a huge mailing list:
"I'd say Devvy should try to find another country if she finds this one so intolerable! I don't know who she is, but I suppose she is a fan of Michael Moore. I found the article disgusting to say the least." Nancy Thomas

The brainwashed never wonder. A fan of Michael Moore? Well, we all need a good laugh!
* * * * * *
From another great American I know:
From: Dennis Grover
Jan 31, 2006
Email Link

Subject: Illegal Immigration

Dear American Friends,

Thanks to the above and beyond efforts of Nevada Eagle Forum headed by Janine Hansen acting on blind faith the "SECURE AMERICA NOW TOUR" came to Reno Nevada on January 21, 2006. Angela "Bay" Buchanan spoke to a packed room at the Peppermill Hotel Casino. She gave a dynamic presentation of the illegal immigration crisis in America. Her presentation of the relevant facts and the behind the scenes activities of our elected representatives is both inspiring and maddening. Bay is an expert on this issue working with Senator Tom Tancredo R-Colorado, founder of Team America Political Action Committee. This is a presentation that every proud American citizen needs to be aware of, see and understand.

This presentation is now available on VHS or DVD and needs immediate distribution to Americans conscious of America's heritage. It has been produced for personal or group viewing and with appropriate color bars and delay for broadcast on public access television stations. Congressional deadlines for action on this issue are only weeks away and it will only be with your help that this valuable insight into the immigration problem can get into the hearts and minds of concerned Americans.

Nevada Eagle Forum and Janine Hansen went to great expense to make this event possible and needs to recover.

For each donation of $25 or more you will be sent a copy of this production (specify VHS or DVD).

When you donate, email your shipping address to dennis@libertyandjusticeforall.tv or call Dennis at 530-993-4472 so that your video can be sent out immediately.

Send your donations to Nevada Families/Eagle Forum, 186 Ryndon, Unit 12, Elko, Nevada 89801 or you can donate on line with credit card or electronic check at
Nevada Families Education Foundation Donation Page

Pictures and more information is available at
www.nevadafamilies.org

This event is extremely time sensitive and your support is needed now. Thank You for your participation in America

Please forward this far and wide, time is of the essence.

In Truth and Freedom.
Dennis Grover, American
* * * * * *
Sherry Jackson is a friend, a very smart lady and a fearless American. Spread the word and get to her seminars if you can:
I am inviting you to two very important workshops: February 11th in Dallas and March 11th in Phoenix. Things are moving very rapidly downhill in our country, and you need to know how to avoid the coming economic and health/wellness earthquake. My guests (those invited by me through this notice, and people they bring) will receive a welcome package which includes a copy of my DVD "Breaking The Invisible Shackles", and other important information, if you register by February 8th for the Dallas event and by February 23rd for the Phoenix event. If you don't live in the area please let others know. We don't have much time to try and correct wrongs and save ourselves and our families. Pre registering will ensure that a welcome package is waiting for you.

The Phoenix event will actually have experts in asset protection and debt reduction working along side of me. The Dallas event is a smaller event, thus the price difference. Also, the Phoenix event is in the morning and the Dallas event is in the evening.

If you do not want to receive notices of workshops where I will speak, please reply with REMOVE in the subject line and I will kindly not send you additional announcements. SPJ

"Cowardice asks the question: is it safe? Expediency asks the question: is it political? Vanity asks the question: is it popular? But conscience asks the question: is it right? And there comes a time when one must take a position that is neither safe, nor political, nor popular - but one must take it simply because it is right." Martin Luther King, Jr.

Are you prepared for the coming economic earthquake?

Attention: Self-employed, pastors, business leaders and all patriotic Americans

CPA
Certified Fraud Examiner
Former IRS Agent
21 Years of Experience

Educational Seminar with Sherry Peel Jackson
and others, for the average American.

Got Questions? Get Answers!
Free materials

Topics to be discussed:

· How to structure your assets to protect them from lawsuits and liens.

· How to rapidly reduce your mortgage payoff and save thousands of dollars in interest.

· How to obtaining dual citizenship and buy real estate in other countries.

· Why the Rockefellers never lose a lawsuit.

· How you can retire in 3-5 years!

· Which doctors have cancer and AIDS cures and how they are silenced by hospitals and the drug industry.
· What you can do to protect yourself from the coming economic earthquake.

Learn from experts with insider knowledge that they are willing to share with you.


Are you working for money or is money working for you?

Saturday, February 11th, 2006 6:00PM – 10:00PM

$20 per person/$30 per couple

The Harvey Hotel, DFW Airport
4545 West John Carpenter Freeway, Irving, Texas 75063
972-929-4500 1-888-449-9722

Register on line at www.wakethepeople.com

Seating is limited, refreshments will be served, and prizes will be awarded!
We look forward to seeing you there!

No Children Please

Saturday, March 11th, 2006 9:00AM – 3:00PM

$50 per person/$80 per couple

Hilton Garden Inn Phoenix Airport
3422 E. Elwood Street, Phoenix, Arizona 85040

602-470-0500
Register on line at www.questlive.com Receive a free DVD if you register by February 23rd

Seating is limited
Refreshments will be served, and prizes will be awarded!

We look forward to seeing you there!
* * * * *
---
February 9, 2006
What's the Fed Up To With the Money Supply?
http://www.safehaven.com/article-4331.htm
December 23, 2005
by Robert McHugh
Over the past two days, December 21st - when our first Hindenburg Omen (of whatever cluster is coming) - and Thursday December 22nd, the Federal Reserve has conducted one of the largest two-day Repo injections of money into the system since back in September 2001. On Wednesday they added $18.0 billion in reserves and on Thursday they added another $20.0 billion. Is this a coincidence, coming right as we get another Hindenburg Omen? Probably not. Is something high-risk going on behind the scenes here? Let's review some facts at the Fed. On November 10th, 2005, shortly after appointing Bernanke to replace Greenbackspan, the Fed mysteriously announced with little comment and no palatable justification that they will hide M-3 effective March 2006. M-3 has been the main staple of money supply measurement and transparent disclosure since the Fed was founded back in 1913. It is the key monetary aggregate that includes Fed Repo transactions, that mechanism whereby the Fed increases reserves. The date when M-3 will start being hidden also happens to be the exact month that Iran will declare economic war against the U.S. Dollar by trading its oil in Petro-Euros on its new bourse. But there is more. The Federal Reserve currently has three vacancies within the 19 top Regional Bank and Board of Governor spots. Why? Part of ongoing wholesale resignations.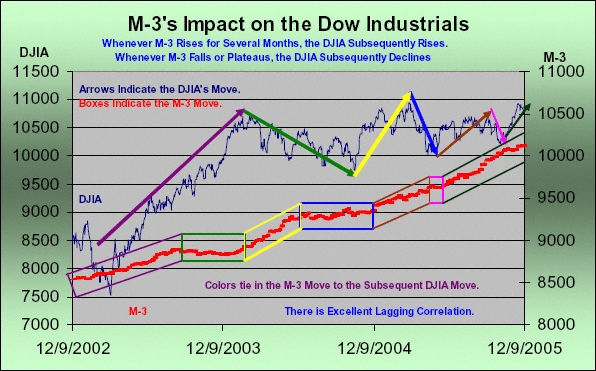 The latest is from the Philly Fed. Fed President and Open Market Committee member Anthony Santomero has announced his resignation after only a brief year and a half tenure. Very unusual. Hey, Fed Presidents are treated like gods. They have enormous power, prestige, and presence. Why quit? He is far from alone. Over the past few years no less than six Federal Reserve Regional Bank Presidents have resigned. This is highly unusual.
An immediate impact is that we are about to have a largely inexperienced batch of individuals conducting monetary policy in the United States. So of course, the first thing they will do is hide the key money figures. Two positions for the Board of Governors (there are 7)have been open for quite a while. Plus six of the 12 Regional Head spots have turned over during the past few years.
If a substantial amount of oil transactions will suddenly be conducted in Euros instead of Dollars, this should put pressure on the Dollar as folks exchange Dollars for Euros, jeopardizing the Dollar's status as the world's reserve currency, making it more difficult to print all the dollars the Fed wants to without driving the Dollar into the ground. Iraq threatened to do what Iran has threatened to do just before we went in looking for weapons of mass disappearance. If the Dollar tanks, Treasuries might not be far behind. If Treasuries tank, kiss the Housing-driven boom goodbye. Could the Master Planners be hiding M-3 because they anticipate they may have to monetize the Federal debt, buy our own Treasury Bonds during the coming economic attack against the Dollar? That would require a ton of new fresh money creation - too much to disclose. Could it be some folks at the top of the Fed do not have the stomach to be part of what is about to go down?
M-3 has a direct but lagging impact on financial markets. Look at the chart at the top of the prior page. Whenever M-3 rises, the Dow Industrials rise. Whenever M-3 is flat or declines, the Dow Industrials decline. The Dow Industrials are a bellwether for the economy. If we can monitor M-3, we can better monitor the future path of equities and the economy. It is wrong for the Fed to stop its disclosure for this very reason. Investors need to know in a free market economy, because M-3 infusion is centrally planned intervention into a free market system. Investors need to know when the Master Planners have decided to intervene. Our buy/sell signals were designed to pick up the scent of Master Planner intervention by analyzing supply and demand forces underlying the markets. So with or without a fully disclosed M-3, we will be able to continue to identify coming multi-week trends.
So what about M-3 the past week? The latest figures show that on a seasonally adjusted basis, M-3 rose 27.3 billion last week, a 14.0 percent annualized clip, and is up $76 billion over the past month, a 9.8 percent growth rate. But those are the massaged numbers. For the raw figures, fasten your seat belt. Are you ready? M-3 was increased $58.7 billion last week (that does not include the huge Repo infusions noted above), a 30.0 percent annualized rate of growth. For the past two week, the Fed added $93.5 billion to the money supply, a 24.0 percent annual clip. Over the past 6 weeks it is up $192.9 billion, a 16.7 percent Banana Republic hyperinflationary pace. This is nuts, folks - unless there is an incredible risk out there we are not being told about. That is a lot of money for the Plunge Protection Team's arsenal to buy markets - stocks, bonds, currencies, whatever. This level of irresponsible money supply growth makes shorting markets hazardous, yet at the same time says markets are at huge risk of declining. Maybe M-3 growth doesn't stop the decline this time. Should be a fascinating storm in 2006.
The recent rise in Gold catalogued 74 points over about a month, a 16 percent rally from precisely the day the Fed announced it would hide M-3 from taxpayers and citizens of this great nation. That is no coincidence. Gold sees hyperinflation, monetization of debt, and intervention into free markets. Gold is telling us it expects Ben Bernanke to be an inflationist.
Don't miss Dr. McHugh's interview with CBS radio at WWJ 950 AM on December 30th, 2005. You can access this station through the internet by clicking on www.wwj.com . Jayne Bowers presents Dr. McHugh's views on the Fed's decision to drop M-3, the Plunge Protection Team, and new Fed Chairman Ben Bernanke.
If you would like a Free 30 day Trial Subscription to check out our remarkable buy/sell signals on the blue chip Dow Industrials and S&P 500, NASDAQ 100, or HUI Amex Gold Bugs Index, simply go to www.technicalindicatorindex.com, and click on the "Contact Us" button, and email us with your request, including a password you would prefer to use to access our site. A subscription gains you access to index buy/sell signals, our thrice weekly Market Analysis Newsletters, Traders Corner, Guest Articles, and our Archives. On October 13th, 2005 we closed out our latest Trader's Corner transaction with a 51.8 percent profit over a 21 trading day period (this is not an annualized figure). The prior trade garnered a 34 percent profit.
We integrate a broad base of technical analysis tools to help our clients build wealth. In addition to these buy/sell signal indicators, a subscription will gain you access to our newsletters that cover the major U.S. Equity, Bond, Commodity, Precious Metal, and Currency markets, using multiple tools simultaneously, including Elliott Wave Theory, Supply and Demand, Momentum Measures, Dow Theory, Chart Patterns, Cycles, Sentiment Measures, Fibonacci Ratio Measures for Price and Time turn-date targets, and Analogs of Current Price Behavior with the Past to name a few. Check us out today and start making money!
"For a child will be born to us, a son will be given to us;
And the government will rest on His shoulders;
And His name will be called Wonderful Counselor, Mighty God,
Eternal Father, Prince of Peace."
Isaiah 9:6
Talk Back
http://www.safehaven.com/comment.cfm?id=4331
Robert D. McHugh, Jr. Ph.D.
Main Line Investors, Inc.
Robert McHugh Ph.D. is President and CEO of Main Line Investors, Inc., a registered investment advisor in the Commonwealth of Pennsylvania, and can be reached at www.technicalindicatorindex.com. The statements, opinions and analyses presented in this newsletter are provided as a general information and education service only. Opinions, estimates and probabilities expressed herein constitute the judgment of the author as of the date indicated and are subject to change without notice. Nothing contained in this newsletter is intended to be, nor shall it be construed as, investment advice, nor is it to be relied upon in making any investment or other decision. Prior to making any investment decision, you are advised to consult with your broker, investment advisor or other appropriate tax or financial professional to determine the suitability of any investment. Neither Main Line Investors, Inc. nor Robert D. McHugh, Jr., Ph.D. Editor shall be responsible or have any liability for investment decisions based upon, or the results obtained from, the information provided.
* * * *
Source:
The Virginian-Pilot
http://www.hamptonroads.com/pilotonline/
Harvest of death on the Eastern Shore
http://snipurl.com/l5ei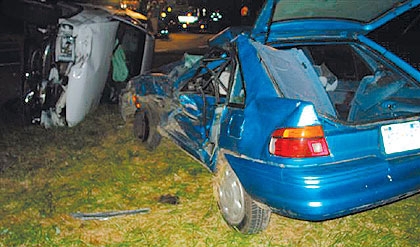 http://media.hamptonroads.com/images/special/eswreckbig.jpg
Rogue vehicles driven by unlicensed drivers have been responsible for a string of deadly accidents on the Eastern Shore. Two people were killed and two injured when this Ford Escort driven by a Hispanic farm worker ran a stop sign Oct. 1 in Accomack County. VIRGINIA STATE POLICE PHOTOS

By BILL BURKE
The Virginian-Pilot
October 10, 2005
The Ford Escort was racing north on rural Seaside Road, its occupants headed home from a wedding, when it ran a stop sign at 55 mph.
The driver of a Ford F-150 traveling east through the intersection never saw the Escort, police said.
The T-bone crash killed the driver of the Escort, Rene Leyva-Perez, and 4-year-old Daniel Salazar, who was in the back seat. Daniel's pregnant mother, Marina Salazar, and the driver of the pickup were injured.
When police arrived, they discovered that Leyva-Perez had no auto insurance or driver's license – only a laminated ID card issued by the tomato-packing plant where he worked – and that the car was registered to a woman in Chesapeake and had Michigan plates.

ACCIDENT TIMELINE:
The 13 fatal accidents involving Hispanic workers on the Eastern Shore since 2002 have killed 18 people. In all but two incidents, the car that caused the accident had out-of-state plates.
Aug. 19, 2002
U.S. 13: Intoxicated migrant worker hit and killed while walking illegally on U.S. 13 at night. Plates: South Carolina.
Aug. 29, 2002
Va. 178: Car runs off road and strikes trees and pole, killing three. Plates: Tennessee.
Nov. 4, 2002
Va. 609: Driver killed when he runs into ditch, loses control and car overturns. Plates: Tennessee.
Feb. 3, 2003
Va. 187: Head-on collision kills two when driver blacks out and crosses median. Plates: Virginia.
July 24, 2003
Va. 609: Driver killed when vehicle runs off road and overturns. Plates: Florida.
Aug. 31, 2003
U.S. 13: Car with three occupants overturns, killing one; driver flees. Plates: Virginia.
Oct. 9, 2003
U.S. 13 (Business): Driver killed when he loses control of car, strikes tree then utility pole. Plates: Tennessee.
Nov. 2, 2003
U.S. 13: Driver killed when car runs off road at high speed and flips end-over-end five times. Plates: Tennessee.
Dec. 20, 2003
U.S. 13: Head-on collision involving two cars with migrant workers; driver of one dies the next day in Charlotte, N.C. Plates: North Carolina.
Dec. 24, 2003
U.S. 13: A head-on collision killed Debbie Thomas, above, a mother of three. Plates: Tennessee.
May 10, 2004
U.S. 13: Driver and passenger killed when they are thrown from one car and struck by two others. Plates: Texas.
July 22, 2004
U.S. 13: Driver killed when he loses control of vehicle and it overturns. Plates: Florida.
Oct. 1, 2005
Intersection of Va. 180 and Va. 600: Driver and child passenger killed when car runs stop sign and is broadsided by a pickup. Plates: Michigan.
In the Escort's wreckage, they found empty cans of Modelo Especial – acclaimed in Mexico as "the elite of beers."
That violent collision nine days ago, on an unlit stretch of Accomack County blacktop, is the latest example of a deadly trend:
Since 2002, more than 90 people have been injured and 18 killed on the Eastern Shore in accidents involving Hispanic workers driving rogue vehicles.
The fatalities represent about one-fourth of the 71 highway deaths on the Eastern Shore in that period, even though the year-round Hispanic population makes up only 5 percent of the region's 51,000 residents. Those numbers swell during tomato-picking season, from July through early November, when most of the fatalities occurred.
Accidents like the one on Oct. 1 have helped make the 77-mile stretch of U.S. 13 from the Chesapeake Bay Bridge-Tunnel to the Maryland state line one of the most treacherous highways in Virginia. In 2003, the fatality rate – deaths per miles driven – on that span of U.S. 13 was more than four times the rates on Interstates 64, 81 and 95 in Virginia.
In all but three of the fatal accidents in which Hispanics were at the wheel, the drivers had no insurance. In most cases, the vehicles had no inspection stickers, the drivers carried no license and alcohol was a factor. The vast majority of the victims in the fatalities were Hispanic.
A review of State Police auto accident reports for 2002 through 2004 on the Eastern Shore also revealed that of the 179 accidents involving Hispanic laborers:
Three-fourths of the drivers had no auto insurance – more than four times the national rate for uninsured motorists.
Nearly all of the vehicles driven by migrants and other laborers were registered to other drivers.
Ninety-three percent of the vehicles had out-of-state tags – most of them from Tennessee.
The number of injuries per accident was about 50 percent higher than the statewide average.
The troopers patrolling U.S. 13, a busy artery connecting Hampton Roads to the populous Northeast, are frustrated by the pattern of lawlessness and mayhem.
Only 10 troopers are assigned to the highways that crisscross the Eastern Shore's 263 square miles – and on some shifts there is only one trooper on duty for each of the Shore's two counties. First Sgt. J.P. Koushel, who oversees the Shore's troopers, said his unit is "tremendously understaffed" and that he has requested additional manpower.
"Right now we're just running from call to call," Koushel said. "We can't even be pro active anymore."
Koushel said most of the vehicles involved in accidents that kill and injure fail to meet Virginia highway safety standards. He called it "a mockery" of the state's vehicle registration law.

Tennessee plates

The state of Tennessee appears to be an enabler for many of the illegal drivers.
Up and down the Eastern Shore, in the work camps and housing complexes where migrants and year-round laborers live, Tennessee plates abound. Eastern Shore law enforcers suspect there is a flourishing black market for Tennessee tags.
There has been speculation of a mail-order operation, but postmasters say they cannot discuss the nature of their mail. Officials for the State Police Bureau of Criminal Investigation would not say if they are looking into the Tennessee tag issue.
Tennessee's titling and registration regulations are among the most lax in the nation. Several migrants interviewed recently said they got Tennessee tags because they were turned down by Virginia's Department of Motor Vehicles.
Tennessee does not require identification or proof of insurance when a vehicle is titled and plates are issued, as long as the motorist pays cash. Most states require identification or proof of insurance; Virginia requires both.
Tennessee state Sen. Bill Ketron said his state's legislature has failed to close the loophole because of pressure from the powerful auto insurance industry, which he says "wants to be able to cherry-pick who they sell to," rather than being forced to insure high-risk drivers. He plans to introduce a bill during the next legislative session, which begins in January, that would toughen titling and registration requirements.
The problem also has come to the attention of Virginia's Migrant and Seasonal Farm Workers Advisory Board. The Tennessee license plate matter is "a political hot potato," said Kenneth E. Annis of Exmore, chairman of the 15-member board.
Annis promised that it will be addressed at the board's next meeting. The board, which meets four times a year, can recommend changes to the governor or the General Assembly.
Other regions with significant Hispanic populations, such as Rockingham County in Virginia's Shenandoah Valley and the Greensboro/Winston-Salem area of North Carolina, have not seen significant numbers of cars with Tennessee tags, say law enforcement officials there.
But on the Eastern Shore, "Somebody is making it very easy for these drivers to get Tennessee tags," Annis said. "It's all very fishy."
And deadly. In the 13 fatal accidents since 2002 involving Hispanic workers, six vehicles bore Tennessee tags.
Many of the Tennessee plates on the Shore were issued in Union County, in the eastern part of the state near the Virginia border – about a nine-hour drive from the Shore.
Jim Houston, county clerk for Union County, said Tennessee officials are aware of the problem. Houston said his office sees "quite a few" Hispanics registering vehicles, "and I think the number's increasing."
When the topic of migrants titling vehicles came up at a recent meeting of Tennessee clerks, Houston said, "One of the other clerks said, 'Lord, we're overrun with them.'"

Migrant population swells

Each year, tomato pickers follow the jobs north from Florida and Georgia to Virginia's Eastern Shore by the thousands.
In July, the Hispanic population on the Shore swells from fewer than 3,000 – those who live there year-round – to about 7,000. The seasonal migrants stay until late October, sometimes into November, then head south.
In recent years, more workers have stuck around when the growing season ended. The number of Eastern Shore laborers who stayed behind and became full-time residents jumped from 177 in 1980 to 2,516 in 2000, according to the U.S. Census Bureau.
With its long growing season, the Shore has become one of the nation's garden spots for tomatoes, which are now its biggest cash crop. Virginia ranks third in the nation in tomato production, behind Florida and California. Virginia's annual crop is valued at $60 million – 95 percent of it grown on the Shore.
Tomatoes must be picked by hand, a labor-intensive and often sweltering task. The migrants from Mexico and Central America bring a willingness and the skills that local laborers generally lack, said Jim Belote, agricultural extension agent for Accomack County.
"These guys are incredible athletes," he said. "You'll see one worker toss a basket of tomatoes to a guy on a truck like a football player completing a pass, and then the first guy is filling another basket.
"They're also very conscientious. They live in what we would consider impoverished conditions so they can send most of their salary to relatives back home."
Migrants are indispensable to the large commercial tomato growers that dominate the industry on the Shore. Jay Taylor, president of Florida-based Taylor & Fulton Inc., one of the Eastern Shore's largest growers, said his company hires between 650 and 750 migrants to pick tomatoes and 150 more to package them during the height of the season at its Mappsville operation.
Jim Albright, who ministers to migrants on the Eastern Shore for the Roman Catholic Diocese of Richmond, said most Hispanics on the Shore are law-abiding and hard working. Some are professionals, and there are two Hispanic doctors, he said.
Albright said migrants have been victimized by fly-by-night entrepreneurs who promise to get them immigration documents, then disappear with their cash. He said he knows it is difficult for many migrants to obtain driver's licenses and vehicle registrations, which can lead them to seek Tennessee tags.
Most of the laborers live in Accomack County housing complexes, motels and mobile home parks, some in squalid conditions. Two of the largest trailer parks are named Dreamland 1 and Dreamland 2.
One laborer, a resident of Dreamland 1 and a Mexican immigrant, said weekend parties are a way of letting off steam after a hot week in the fields.
In 2003 and 2004, 128 of the 395 people arrested on DUI charges on the Shore – 32.4 percent – were Hispanic. Steve Hearn, who heads the Shore's Virginia Alcohol Safety Action Program, said the courts are sending increasing numbers of Hispanics through the program, and he has begun conducting classes in Spanish on videotape and using a Spanish-speaking interpreter for alcohol-awareness sessions.
The carnage
The mix of alcohol, unsafe vehicles and inexperienced drivers has bred carnage along the back roads that connect farm fields to the hamlets on the Shore. Those roads eventually lead to U.S. 13, which bisects the long, narrow peninsula.
When crashes occur, it is not uncommon for Hispanic drivers – often intoxicated and unlicensed – to flee before troopers arrive. According to State Police records, about a third of accidents involving migrant workers are hit-and-run.
That's what happened on Aug. 29, 2002. The driver of a 1990 Dodge van apparently lost control on Va. 178 near Belle Haven. The van veered off the road and struck several trees, then a utility pole.
There were seven people in the van, and three of them – all migrant laborers – died. Two passengers fled before police arrived. The car was registered to Guadalupe Ramirez in Unicoi County, Tenn.
Many accidents leave a curious paper trail. On Nov. 4, 2002, a 1986 Nissan Sentra overturned on Va. 609 in Accomack County, killing the driver, Jesus Antonio Lopez.
Lopez was intoxicated, according to police. The car he was driving bore Tennessee plates and was registered to Michael Jones of 620 Pinewood Drive in Virginia Beach.
Jones, contacted recently in Virginia Beach, said he owned an '86 Sentra when he lived at that address but that he had since moved and given the car to a friend in Northampton County. Jones said the friend later sold the car.
Told that the car had been registered in his name in Tennessee, Jones speculated that someone had found papers with his personal information in the car and used them to get the Tennessee tags.
"It's kind of scary to think that can happen," he said.
A collision on Dec. 20, 2003, involved all of the volatile ingredients: two cars carrying laborers, each bearing out-of-state tags, crashed head-on. Investigators said both drivers had been drinking.
Victor Herrera Munoz, a poultry worker, was headed south on U.S. 13 in a 1985 Chevrolet Camaro with North Carolina plates when he lost control, crossed the median and struck an oncoming Ford Escort, according to a police report.
When officers arrived, no one was in the driver's seat of the badly crumpled Escort, which had Tennessee plates. An ambulance transported Munoz to a hospital in Salisbury, Md.
A few days later, police discovered what happened to the driver of the Escort, Israel Gomez Sanchez. Friends of Gomez Sanchez following in another car had pulled him from the wreckage, placed him in their car and set out on an eight-hour drive to Charlotte, N.C., where Gomez Sanchez had relatives.
There, the injured man's family called an ambulance. According to the medical examiner's report, Gomez Sanchez died at a Charlotte hospital, nearly 14 hours after the accident.
Accomack County prosecutors initially planned to charge Munoz with manslaughter, but decided it would be difficult to convict him because Gomez Sanchez may have lived had he received prompt medical attention.
State Trooper Koushel said migrants often cannot be conclusively identified when they're stopped for a violation or involved in an accident. Many, he said, are illegal aliens who carry fake or invalid driver's licenses. Because of that, he said, many fail to show up in court.
"It's almost like writing a ticket to a ghost," Koushel said.
Sometimes when there's an accident involving a fatality or serious injury, "we don't even know what embassy to contact," he said.
It's three months into the harvest season, and State Police recently have seen the effects of the migrant influx. So has Sentara Norfolk General's air ambulance, the Nightingale.
The helicopter regularly flies to the Eastern Shore to ferry badly injured accident survivors to the Norfolk hospital. On the evening of Sept. 17, the Nightingale made two trips to the Shore to retrieve victims from accidents on U.S. 13.
In the first crash, a man suffered a broken neck when the Hyundai he was riding in pulled out into the path of a State Police special investigator. The Hyundai's driver, a Hispanic worker, had a blood-alcohol content more than double the legal limit for driving.
In the second accident, a migrant worker was seriously hurt while walking intoxicated along U.S. 13 just one mile from the earlier accident. The van that struck him stopped, and the driver stepped out briefly before speeding off. Witnesses identified the driver as Hispanic.
Two weeks later, the Nightingale was again summoned to the Eastern Shore, to pick up pregnant Marina Salazar, injured in the crash on Seaside Road.
On patrol
Along desolate County Road near Parksley, state Trooper Casey Lewis watched a Toyota Camry pull compliantly off the road at dusk. The car's left tail light was burned out. The license plate would have led a casual observer to conclude that the driver was from Tennessee, but Lewis knew better.
"I've gotten this guy before," she said, grabbing a long black flashlight, securing a trooper's hat over her hair and stepping out of the patrol car.
The Camry's driver accompanied Lewis back to her cruiser and pulled out his wallet. It contained a North Carolina ID card that said he was Jose Luis Montes, a field worker from Mexico. But he had no driver's license.
On the floor of the passenger's side of the Camry sat a brown paper bag containing a six-pack of beer bottles. Five were empty.
It was not Montes' lucky night. He was only about 200 feet from the entrance to Dreamland 2, where he lives. Lewis cited him for driving without an operator's permit, an open-container violation and driving with defective equipment.
A few minutes later, Parksley Police Chief Tommy Carpenter pulled up and removed the Tennessee plates with a power screwdriver.
"We'll take them back and destroy them," Lewis said. "That way they won't get recycled on the Shore."
Later that evening, Lewis was one of more than a half-dozen officers who set up a DUI checkpoint in front of a funeral home on Parksley Road, a two-lane stretch of rural blacktop. State Police operate checkpoints once or twice a month. This time, in order to muster enough manpower, they had to recruit local sheriff's deputies.
From midnight to just before 4 a.m., the officers stopped cars, vans and pickups in the sulfurous haze of orange roadside flares, waving suspected violators into the funeral home parking lot. It was a busy night. At one point, eight vehicles were parked at odd angles as officers interviewed their drivers.
At 12:23 a.m., an officer flagged a Nissan pickup with Alabama tags and a black crouching tiger painted on the driver's-side door. Two Hispanic men wearing white T-shirts got out. The driver had no license or ID.
The men became agitated as they milled around. When a tow truck arrived to haul away the pickup, one of the men began shouting "Discrimination! Discrimination!"
As the wrecker pulled away with the pickup aboard, one man flung himself on the flatbed tow truck and tried to roll under his confiscated pickup.
The ruse didn't work.
"Come on down off there, amigo," one of the officers ordered.
There was little rest on this night for Randy Miller, owner of Randy's Service Center in Parksley. He drives a red tow truck with "23½ HOUR SERVICE" emblazoned on the driver's door.
"The half-hour is when I sleep," Miller deadpanned as he loaded up for his fifth trip of the night.
Miller said he maintains a small used-car lot made up mostly of aging vehicles that were never claimed for the $125 towing fee. They often are sold to other farm laborers, police said, thus making their way back onto the highways – many of them sporting Tennessee plates.
The fallout
Every fatality leaves people dealing with its aftermath. Georgie Smith is one of them.
When her daughter, Debbie Thomas, was killed in a Christmas Eve 2003 accident on U.S. 13, Smith was left to raise three grandchildren. Six generations now live in the same two-story house in Painter.
That Christmas, Smith recalls, people came by the house not to celebrate the holiday but to offer condolences. Her grandchildren received the gifts from their mom unwrapped, in a cardboard box.
Thomas had been on her way home that night to wrap the presents. She was less than a mile from her house in Nelsonia when her Nissan Sentra was hit head-on by a Geo Storm with Tennessee plates traveling the wrong way.
The impact tore the shoes from Thomas' feet. She later died at the hospital. Her daughter, Marquita, suffered only minor injuries – thanks to a last-second maneuver by Thomas. State Police said she turned the wheel to the right just before impact, taking the brunt of the collision on the driver's side and probably saving Marquita's life.
The driver of the other car, Narciso Garcia-Jimenez, was seriously hurt. He was air-lifted unconscious to Sentara Norfolk General, where State Police told hospital officials that they planned to obtain a warrant, charging him with manslaughter.
But later, when a nurse went to Garcia-Jimenez's room, the bed was empty – except for a dangling intravenous line. He remains a fugitive.
Garcia-Jimenez worked at one of the sprawling poultry plants in Accomack County. The Geo Storm he was driving was uninsured, had no inspection sticker and was registered to another person at P.O. Box 87, Newport, Tenn. – an address that frequently shows up on registration papers carried by migrants, State Police said.
Smith thought the driver of the car that struck her daughter's had been killed in the crash. When told he had survived and had never been arrested, Smith said she felt "angry, bitter and sad, all at once."
Angry, but not surprised. Not long ago, a man crashed a car near the family home on narrow, poorly lit Shell Bridge Road.
When police arrived, they found the car smashed against a tree. The driver was gone. So were the license plates.
Staff writer David Gulliver contributed to this report.
Reach Bill Burke at (757) 446-2589 or bill.burke@pilotonline.com.
* * * * *
The Carnage of Uninsured Motorists - You NEED to read this one:
http://www.newswithviews.com/Devvy/kidd14.htm
---
February 8, 2006
From an active American on the issue of the abuse of child protection services:
It has come to our attention that there is a Class Action Law Suit being prepared, to be filed in the Federal Court in Louisiana.
The basis for this suit is that the entire structure of the Child Protective Services is Unconstitutional because no person has the inherent right to remove children from their parents. Since no one has that right the authority to grant that right is way beyond the ability of the people of any State to grant to anyone.
If you have had a problem with the Child Protection Services, or, if you know of someone who has, or, if you just feel their actions are wrong, and would like to be a part of the class action law suit send an e-mail to us, Constitutional Concepts Foundation, and we will see that it gets to the attorneys who are preparing the case.
They ask that any e-mails be less than 200 words, and that they contain not only the details of the situation, but specific dates, places, and especially the names of the Social Workers and their bosses who were involved.
Constitutional Concepts Foundation wants to make it very clear so that everyone understands that we not only concur in this action, but we have offered financial assistance to this Class Action Law Suit because we are convinced that the Child Protection Services is a major violation of the unalienable rights of We, the People.
While we abhor the abuse of the prisoners in the Iraqi jail, we feel this is far more serious. This is a major abuse of the power of the government against helpless citizens.
Federal Judge Rules Illinois Child Protection Services Operating in an Unconstitutional Manner

A Federal Judge, Rebecca Pallmeyer, U. S. District Judge for Illinois, found that the tactics of the Illinois DCFS were unconstitutional because they were threatening the removal of the children unless the parents bowed to every whim of the State.

She politely referred to the practice as "Coercion", but it is blatant extortion -- which is a felony, and needs to be treated as such, with charges being brought against those responsible. All of the Social Workers who have used such tactics need to be prosecuted to the fullest extent of the law, for their actions, and the bosses need to join them.

Jeff Maehr
www.the-matrix-has-you.org
truth@the-matrix-has-you.org
970-731-9724

For more information on this lawsuit, see: http://www.constitutionalconcepts.org/classaction.htm

Class Action Law Suit

Constitutional Concepts Foundation is aware of, and a party to, a Class Action Law Suit now being assembled in New Orleans, Louisiana

The Purpose of the suite is to end the unconstitutional activities that are being conducted by the various Child Protection Agencies in the several States, and to put a stop to any attempt by the Federal Government to provide funds for such unconstitutional actions

Constitutional Concepts Foundation is concerned about the health and welfare of the children, but feels, that like most government programs, this is wrong headed and backwards.

The very actions of the people who claim to be protecting the children are creating a greater abuse than what the children may have just suffered.

For anyone to think that by taking the children away from their loving family, their comfortable surroundings, their toys, school, bed, clothes, and other "stuff" they are doing the child a favor is beyond comprehension.

If a child is abused, then the abuser needs to be removed, not the child. The problem with that line of thought is that the States can't earn the $4,000 per child they take if they take the abuser.

It's not about protecting the children -- It's all about money.

Please direct all comments to: reply@constitutionalconcepts.org

* * * *

DCFS Threats to Take Children Ruled Illegal

By Ofelia Casillas and Matt O'Connor
Chicago Tribune Staff Reporters
Published March 15, 2005
* * * *
From: Charlotte Iserbyt
December 26, 2005

Subject: Free PDF Downloads from Iserbyt

HAPPY NEW YEAR TO ALL OF YOU!

My gift for all follows:

My book "the deliberate dumbing down of america...A Chronological Paper Trail", published in 1999, is now available as a pdf, to be downloaded, FREE at my website! Go to http://www.deliberatedumbingdown.com and click on "e-book download free to all". Please forward this email to all your addressees. I am, of course, still selling the regular book, in hard and soft copy versions, but felt that, due to the urgency of the political situation, it is important to make it available to as many people as possible, on the Internet. I still have a fair supply of the regular book available but that supply is rapidly dwindling and I do not intend to publish a fourth printing.

Also, please, when you go on my primary website homepage (above) click on my secondary website americandeception.com for free downloads of:

1. The Cox and Reece Committee Congressional Hearings related to the Investigation of the Tax Exempt Foundations, 1954 ( incredible sworn testimony regarding treason on all fronts) Copies of these records of the hearings were scooped up by the foundations in order to keep this information from the American people.

2. The late Maureen Heaton's manuscript of "The Impossible Dream" which has never been widely disseminated. Heaton was a first-class patriot who spent every day of her life for at least forty years researching the development of the Soviet system of management which was piloted first in California, aka PPBS, and is now being used by every governmental agency at every level for total control of the citizenry.

3. Miscellaneous important Don Bell Reports.
* * * * *
Bring 'em Home!

by William Norman Grigg
January 9, 2006

The Iraq War is an unconstitutional, unjustifiable conflict devouring innocent lives and abetting the growth of an increasingly lawless leviathan state. It must be ended -- now. [Click here to send online letter to Congress, "Bring Our Soldiers Home From Iraq -- Now!"]

Twenty-one-year-old Matthew Holley, born in Idaho and raised in Chula Vista, California, was killed by a roadside bomb in Iraq on November 15. A three-time AAU Karate champion and accomplished artist, Holley followed in his father's footsteps by enlisting in the U.S. Army's 101st Airborne. "It made me very proud that he actually wanted to be like his dad," recalled Holley's father, John, at the young soldier's December 2 funeral.

Matthew got engaged shortly before leaving for Iraq. In a letter to his parents just days before he was killed, he asked them to send him some crayons so he could teach Iraqi children how to draw. "No one will ever be able to know the extent to which [Matthew's] talents could have gone," observes his mother, Stacey, who also served in the military.

John and Stacey are understandably proud of their gifted, kind-hearted, patriotic son. And, understandably, they were just as upset when his lifeless body was shipped home in the belly of a commercial jetliner. As with the mortal remains of more than 2,100 other American servicemen killed in Iraq, the body of Matthew Holley was transported to Dover Air Force Base in Delaware, then sent as freight to San Diego's Lindbergh Field. Matthew's parents were outraged at the thought that the body of their only child was stuffed into a cargo hold like so much baggage.

"When someone dies in combat," observed John Holley, "[military officials] need to give them due respect for [the] sacrifice they made." Armed with knowledge of military protocol, and with the assistance of Senator Barbara Boxer (D-Calif.), the Holleys were able to arrange a suitable reception. But they are aware that most families who experience similar losses aren't as fortunate.

Twenty-year-old John Donaldson, a member of Idaho's 116th Brigade Fighting Team, came home alive from Iraq, but both of his legs were claimed by an Improvised Explosive Device (IED). After months of convalescence at Walter Reed Hospital, Donaldson was greeted at the Boise airport by a small contingent of veterans from his Emmett-based National Guard unit. The welcome was organized by fellow guardsman Thomas Butler, whose leg and calf were also injured in an IED attack.

During an earlier enlistment in the Marines, Butler -- who joined the Guard following the 9/11 attacks -- served in the 1991 Gulf War, and he came home to an exultant welcome. "I'm 41 years old," Butler explained. "I want to see the younger guys get what I got [when I came home 15 years ago]," he told the Idaho Statesman.

A Veteran's Anguish

Matthew Stacey and John Donaldson are just two of many thousands of young Americans who have been killed or incapacitated in the ongoing Iraq war. Each combat death represents a world that has been brought to an end, a unique voice that has been stilled, a set of parents that has been deprived of a son or daughter, and often a family left without a father or mother. And every American soldier left sightless, crippled, lobotomized, or permanently disfigured from combat injuries experiences a life-altering loss.

Full column here:

http://www.thenewamerican.com/artman/publish/article_2905.shtml
---
February 6, 2006
Vol II of my One for the Road series should be ready to ship by the 15th. We need to reach out to everyone with the truth. If you don't know about this project, please see: http://www.devvy.com/one_for_the_road.html - the menu of columns is at the bottom of the page.
Please feel free to burn copies of these CDs and give them to friends, family, business associates. Everyone has a hot button. If you know someone who is hot about taxation, give them Vol II, Disk 3 and ask them to please listen to the segment on how their taxes are funding Russian political parties. That should get their pipes smokin! Most Americans don't become activists until they become victims of the system or you touch their pocketbook.
* * * * *
Who the hell does Condi Rice think she is, or better yet, since she supposedly follows the direction of Bush - has he proclaimed himself King? Who are we to threaten any country who chooses to boycott another with "serious political consequences"? While this appears to be an inter government squabble over in Norway, it is not the business of our government to make these types of threats. Is it any wonder half the world considers America a bully instead of a nation wishing good will for all?
U.S. threatens Norway over Israel boycott
US threats after boycott support
Aftenposten Thursday, 12 January 2006
WASHINGTON — US Secretary of State Condoleezza Rice threatened Norway with "serious political consequences" after Finance Minister and Socialist Left Party leader Kristin Halvorsen admitted to supporting a boycott of Israeli goods. The reaction was reportedly given to the Norwegian embassy in Washington DC,
and it was made clear that the statements came from the top level of the US State Department, newspaper VG reports.
VG claims that two classified reports promised a "tougher climate" between the USA and Norway if Halvorsen's remarks represented the foreign policy of the new red-green alliance of the Labor, Socialist Left and Center parties.Norway's Minister of Foreign Affairs, Jonas Gahr Støre, responded immediately with written explanations to both Israel and the USA, clarifying the government's stance, while Halvorsen distanced her party's policy from that of the government's.
http://www.aftenposten.no/english/local/article1192476.ece
* * * * * *
They Thought They Were Free
by Milton Mayer

"What no one seemed to notice was the ever widening gap between the government and the people. And it became always wider.....the whole process of its coming into being, was above all diverting, it provided an excuse not to think....for people who did not want to think anyway gave us some dreadful, fundamental things to think about.....and kept us so busy with continuous changes and 'crises' and so fascinated.....by the machinations of the 'national enemies,' without and within, that we had no time to think about these dreadful things that were growing, little by little, all around us.....

"Each step was so small, so inconsequential, so well explained or, on occasion, 'regretted,' that unless one understood what the whole thing was in principle, what all these 'little measures'.....must some day lead to, one no more saw it developing from day to day than a farmer in his field sees the corn growing.....Each act is worse than the last, but only a little worse. You wait for the next and the next.

"You wait for one great shocking occasion, thinking that others, when such a shock comes, will join you in resisting somehow. You don't want to act, or even talk, alone.....you don't want to 'go out of your way to make trouble.' But the one great shocking occasion, when tens or hundreds or thousands will join with you, never comes.

"That's the difficulty. The forms are all there, all untouched, all reassuring, the houses, the shops, the jobs, the mealtimes, the visits, the concerts, the cinema, the holidays. But the spirit, which you never noticed because you made the lifelong mistake of identifying it with the forms, is changed. Now you live in a world of hate and fear, and the people who hate and fear do not even know it themselves, when everyone is transformed, no one is transformed.

"You have accepted things you would not have accepted five years ago, a year ago, things your father.....could never have imagined."

--- Milton Mayer, They Thought They Were Free, The Germans, 1938-45 (Chicago: University of Chicago Press, 1955)
* * * * *
Domestic Surveillance and the Patriot Act.-Congressman Ron Paul
http://www.house.gov/paul/tst/tst2005/tst122605.htm
December 26, 2005
Recent revelations that the National Security Agency has conducted broad surveillance of American citizens' emails and phone calls raise serious questions about the proper role of government in a free society. This is an important and healthy debate, one that too often goes ignored by Congress.
Public concerns about the misnamed Patriot Act are having an impact, as the Senate last week refused to reauthorize the bill for several years. Instead Congress will be back in Washington next month to consider many of the Act's most harmful provisions.
Of course most governments, including our own, cannot resist the temptation to spy on their citizens when it suits government purposes. But America is supposed to be different. We have a mechanism called the Constitution that is supposed to place limits on the power of the federal government. Why does the Constitution have an enumerated powers clause, if the government can do things wildly beyond those powers-- such as establish a domestic spying program? Why have a 4th Amendment, if it does not prohibit government from eavesdropping on phone calls without telling anyone?
We're told that September 11 th changed everything, that new government powers like the Patriot Act are necessary to thwart terrorism. But these are not the most dangerous times in American history, despite the self-flattery of our politicians and media. This is a nation that expelled the British, saw the White House burned to the ground in 1814, fought two world wars, and faced down the Soviet Union. September 11th does not justify ignoring the Constitution by creating broad new federal police powers. The rule of law is worthless if we ignore it whenever crises occur.
The administration assures us that domestic surveillance is done to protect us. But the crucial point is this: Government assurances are not good enough in a free society. The overwhelming burden must always be placed on government to justify any new encroachment on our liberty. Now that the emotions of September 11th have cooled, the American people are less willing to blindly accept terrorism as an excuse for expanding federal surveillance powers. Conservatives who support the Bush administration should remember that powers we give government today will not go away when future administrations take office.
Some Senators last week complained that the Patriot Act is misunderstood. But it's not the American public's fault nobody knows exactly what the Patriot Act does. The Act contains over 500 pages of detailed legalese, the full text of which was neither read nor made available to Congress in a reasonable time before it was voted on- which by itself should have convinced members to vote against it. Many of the surveillance powers authorized in the Act are not clearly defined and have not yet been tested. When they are tested, court challenges are sure to follow. It is precisely because we cannot predict how the Patriot Act will be interpreted and used in future decades that we should question it today.
---
February 5, 2006
When are the voters going to pay attention and throw out inept public servants?
January 3, 2006
latimes.com
DWP Pays to Drink Sparkletts
L.A.'s supplier of tap water accounts for more than a third of the city money spent on the bottled variety.
By Patrick McGreevy, Times Staff Writer
Despite spending $1 million in the last two years to assure Los Angeles residents that their tap water is not only safe to drink but also top quality, city officials spent $88,900 in public money during that time on bottled water from private firms.
The Department of Water and Power, which supplies the city's water and promotes it, spent the most on bottled water, paying $31,160 to Sparkletts.
"I am stunned," said City Controller Laura Chick, whose office compiled the bills in response to a Public Records Act request from The Times. "This is the same department which spent millions of dollars for public relations promoting themselves and the quality of their drinking water."
The city's use of bottled water comes despite a 1995 directive by former Mayor Richard Riordan that said: "The city's tap water satisfies most needs, and bottled water should not be provided ordinarily at city expense."
As a result of that order, many City Hall offices pay for water coolers with money collected by employees.
The bottled water purchased by the city in the last two years includes water coolers for city offices and small sports bottles for city workers in the field or for the public at special events in hot weather, officials said.
The DWP spends about $500,000 annually to mail a report on the quality of its water to its customers, as required by federal law, according to Jim McDaniel, chief operating officer of the agency's water division.
Full column here: http://www.latimes.com/news/local/la-me-water3jan03,0,7284835.story?coll=la-home-headlines&track=morenews
* * * *
Vote fraud: It's real and it IS controlling our elections:
Diebold CEO resigns after reports of fraud litigation, internal woes

Raw Story/John Byrne | December 13 2005

The chief executive officer of electronic voting company Diebold who once famously declared that he would "deliver" Ohio for President Bush has resigned effective immediately, RAW STORY has learned.

"The board of directors and Wally mutually agreed that his decision to resign at this time for personal reasons was in the best interest of all parties," the company's new chairman said in a statement.

O'Dell's resignation comes just days after reports from BradBlog.com that the company was facing imminent securities fraud litigation surrounding charges of insider trading. It also comes on the heels of a RAW STORY interview with a Diebold insider, who raised new allegations of technical woes inside the company, as well as concerns that Diebold may have mishandled elections in Georgia and Ohio.

Full column here: http://www.prisonplanet.com/articles/december2005/131205ceoresigns.htm

Bonanza of documentation on vote fraud: http://www.blackboxvoting.org/
"We'll remember in November!"
How the masters of the game behind the scenes must laugh their black hearts out watching desperate, decent Americans trying to get rid of rotten, corrupt public servants waste their time with electronic voting machines.
* * * *
Homeland Security Opening Private Mail

Retired professor confused, angered when letter from abroad is opened

By Brock N. Meeks, Chief Washington correspondent
MSNBC
Jan. 6, 2006

"WASHINGTON - In the 50 years that Grant Goodman has known and corresponded with a colleague in the Philippines he never had any reason to suspect that their friendship was anything but spectacularly ordinary.

"But now he believes that the relationship has somehow sparked the interest of the Homeland Security Department and led the agency to place him under surveillance.
Last month Goodman, an 81-year-old retired University of Kansas history professor, received a letter from his friend in the Philippines that had been opened and resealed with a strip of dark green tape bearing the words "by Border Protection" and carrying the official seal of the Department of Homeland Security.

"I had no idea (Homeland Security) would open personal letters," Goodman told MSNBC.com in a phone interview. "That's why I alerted the media. I thought it should be known publicly that this is going on," he said. Goodman originally showed the letter to his own local newspaper, the Kansas-based Lawrence Journal-World.

"I was shocked and there was a certain degree of disbelief in the beginning," Goodman said when he noticed the letter had been tampered with, adding that he felt his privacy had been invaded. "I think I must be under some kind of surveillance."

"Goodman is no stranger to mail snooping; as an officer during World War II he was responsible for reading all outgoing mail of the men in his command and censoring any passages that might provide clues as to his unit's position. "But we didn't do it as clumsily as they've done it, I can tell you that," Goodman noted, with no small amount of irony in his voice. "Isn't it funny that this doesn't appear to be any kind of surreptitious effort here," he said.

"The letter comes from a retired Filipino history professor; Goodman declined to identify her. And although the Philippines is on the U.S. government's radar screen as a potential spawning ground for Muslim-related terrorism, Goodman said his friend is a devout Catholic and not given to supporting such causes.

"A spokesman for the Customs and Border Protection division said he couldn't speak directly to Goodman's case but acknowledged that the agency can, will and does open mail coming to U.S. citizens that originates from a foreign country whenever it's deemed necessary.

"All mail originating outside the United States Customs territory that is to be delivered inside the U.S. Customs territory is subject to Customs examination," says the CBP Web site. That includes personal correspondence. "All mail means 'all mail,'" said John Mohan, a CBP spokesman, emphasizing the point.
"This process isn't something we're trying to hide," Mohan said, noting the wording on the agency's Web site. "We've had this authority since before the Department of Homeland Security was created," Mohan said.

"However, Mohan declined to outline what criteria are used to determine when a piece of personal correspondence should be opened, but said, "obviously it's a security-related criteria."

"Mohan also declined to say how often or in what volume CBP might be opening mail. "All I can really say is that Customs and Border Protection does undertake [opening mail] when it is determined to be necessary," he said."
---
February 4, 2006
Michael New THE NEW WORLD DISORDER
Soldier continues fight
not to serve under U.N.
Michael New claims U.S. Constitution forbids military from donning blue beret
Posted: January 11, 2006
1:00 a.m. Eastern

A U.S. soldier court-martialed for refusing to wear the insignia and blue beret of the United Nations and serve under the world body's command is now appealing his case to a federal appeals court.

Michael New was among several hundred troops sent to Macedonia by President Clinton in 1995 on a U.N. peacekeeping mission. But New refused to obey the order, calling it illegal for him to serve under a foreign power.

New's attorney, Henry L. Hamilton, argued both Clinton's order to deploy troops to Macedonia and his order for soldiers to wear the U.N. uniform were illegal, because deployment required congressional approval, and the U.N. uniform is not authorized by either the Department of Defense or the U.S. Army.

Now the former Army specialist is preparing for oral hearings Feb. 16 in the United States Court of Appeals for the District of Columbia Circuit.

His attorneys says the issue is whether an American soldier, having taken an oath to support and defend the Constitution of the United States, may be forced instead to serve under the military command of a foreign power.

Military courts ruled this was a political question, outside their jurisdiction. New argues he has been denied the right to have the legality of the order addressed by a jury.

U.S. District Court Judge Friedman, who ruled against New, conceded Clinton may have broken the law, but contended it's the duty of Congress to challenge the president, not a soldier.


Michael New

New's lead attorney, Herbert W. Titus, of Virginia, says the case has "serious implications for every American who ever wears a uniform."

"Michael New's stand is for them, and their right to defend their country exclusively, in accordance with the American soldier's oath of office," Titus said.

Legal observer Joseph Dale Robertson argues that every judicial circuit court of appeals in the federal system, with the exception of the District of Columbia, has ruled that in all criminal cases "it is the jury, the trier of fact, that must exclusively determine each and every essential element of the alleged crime."

"Michael New was denied this fundamental right in his original court-martial," he asserted.

New, who is pursuing a degree in Information Management Systems in Texas, said of his case: "Right is right, and wrong is wrong. They can argue until the end of time, but I will never serve the United Nations."

As WorldNetDaily reported in 2001, the Court of Appeals for the Armed Forces upheld New's bad-conduct discharge.

During the court martial, evidence submitted by New's attorney bearing on the lawfulness of the order was set aside by Army Judge Lt. Col. Gary Jewell, who instructed the jury that the orders were constitutional.

Later, the military appeals court cited a 1996 case that states, "Orders are clothed with an inference of lawfulness."

Additionally, the Manual for Courts-Martial, the court noted, states: "An order requiring the performance of a military duty or act may be inferred to be lawful and it is disobeyed at the peril of the subordinate. This inference does not apply to a patently illegal order, such as one that directs the commission of a crime."

Accordingly, New "has the burden to establish that the order is not lawful," the court continued. "We hold that the military judge did not err in determining that the order given to appellant to wear his uniform with U.N. accoutrements was lawful. The military judge correctly determined that the evidence presented by appellant did not overcome the presumption of lawfulness given to military orders and that the order related to military duty."

The judge in the military appeals court decision deferred the question of the legality of the deployment order to the political-question doctrine, which does not allow any of the three branches of government to overstep constitutional separation of powers.

Specifically, the Constitution gives the president express authority to command the armed forces.

In his separate but concurring opinion, Judge J. Sullivan contended the question of the orders' legality should have been put to a jury during New's court-martial. Instead, the lower military court instructed the jury to consider the orders lawful rather than allow jury members to make that determination.

Related stories:

Michael New demands court action

Michael New case still unresolved

H-440.970 Religious Exemptions from Immunizations


Since religious/philosophic exemptions from immunizations endanger not only the health of the unvaccinated individual, but also the health of those in his or her group and the community at large, the AMA (1) encourages state medical associations to seek removal of such exemptions in statutes requiring mandatory immunizations; (2) encourages physicians and state and local medical associations to work with public health officials to inform religious groups and others who object to immunizations of the benefits of vaccinations and the risk to their own health and that of the general public if they refuse to accept them; and (3) encourages state and local medical associations to work with public health officials to develop contingency plans for controlling outbreaks in exempt populations and to intensify efforts to achieve high immunization rates in communities where groups having religious exemptions from immunizations reside. (CSA Rep. B, A-87; Reaffirmed: Sunset Report, I-97)


Inoculations: The true weapons of mass destruction causing VIDS
(Vaccine Induced Diseases)
An Epidemic of Genocide

by Rebecca Carley, M.D.
Court Qualified Expert in VIDS and Legal Abuse Syndrome
www.drcarley.com

"One basic truth can be used as a foundation for a mountain of lies, and if we dig down deep enough in the mountain of lies, and bring out that truth, to set it on top of the mountain of lies; the entire mountain of lies will crumble under the weight of that one truth. And there is nothing more devastating to a structure of lies than the revelation of the truth upon which the structure of lies was built, because the shock waves of the revelation of the truth reverberate, and continue to reverberate throughout the Earth for generations to follow, awakening even those people who had no desire to be awakened to the truth." (by Delamar Duvaris as written in the
preface of "Behold the Pale Horse" by William Cooper).

The basic truth that served as the foundation for the mountain of lies known as vaccinations was the observation that mammals which recover from infection with microorganisms acquire natural immunity from further infections. Whenever cytotoxic T cells (the little Pac man cells which devour and neutralize viruses, bacteria, and cancer cells, thus conferring cellular immunity and are also responsible for allograft rejection) and B cells (antibody producing cells which confer humoral immunity by circulating in the body's fluids or "humors", primarily serum or lymph) are activated by various substances foreign to the body called antigens, some of the T and B cells become memory cells. Thus, the next time the individual meets up with that same antigen, the immune system can be quickly triggered to demolish it. This is the process known as natural immunity.

Full column here: http://www.drcarley.com
---
February 3, 2006
From the Black Commentator: Colin Powell, Liar Extraordinaire
"Can you imagine having an opportunity to address the United Nations Security Council about a matter of great global importance, with all the world's media watching, and using it to… well, to make sh*t up – to lie with a straight face, and with a CIA director propped up behind you, I mean to spew one world-class, for-the-record-books stream of bull, to utter nary a breath without a couple of whoppers in it, and to look like you really mean it all? What gall. What an insult to the entire world that would be.
"Colin Powell doesn't have to imagine such a thing. He has to live with it. He did it on February 5, 2003. It's on videotape."
The full column is here: http://www.blackcommentator.com/166/166_think_swanson_powell_lies.html
* * * * *
Condi's Trail of Lies
By Sidney Blumenthal
Salon.com

December 2005

"Condoleezza Rice's contradictory, misleading and outright false statements about the US and torture have taken America's moral standing - and her own - to new depths.

"The metamorphosis of Condoleezza Rice from the chrysalis of the protégé into the butterfly of the State Department has not been a natural evolution but has demanded self-discipline. She has burnished an image of the ultimate loyalist, yet betrayed her mentor, George H.W. Bush's national security advisor Brent Scowcroft. She is the team player, yet carefully inserted knives in the back of her predecessor, Colin Powell, climbing up them like a ladder of success. She is the person most trusted on foreign policy by the president, yet was an enabler for Vice President Cheney and the neoconservatives. Now her public relations team at the State Department depicts her as a restorer of realism, builder of alliances and maker of peace.

"On her first trip to Europe early this year she left the sensation of being fresh by listening rather than lecturing. The flirtation of power appeared to have a more seductive effect than arrogance. So the old face became a new face. But on this week's trip the iron butterfly emerged.
Full column is here: http://www.truthout.org/docs_2005/120805Z.shtml
* * * * *
Remember Ford's recent announcement of 30,000 pink slips? Things are going to get far, far worse:
Toys R Us to Shut 75 Stores
January 10, 2006

"PARAMUS, N.J. — Toy R Us Inc. will close a net 75 locations and eliminate 3,000 jobs over the next few months, the embattled toy retailer's parent company said. The company said that while 87 stores will be shut, 12 will be converted into Babies R Us locations as part of a reorganization plan undertaken after the company went private last year. The closures will cause the company to record $155 million of restructuring charges, including $45 million for the cost of liquidating the inventory. Some $99 million will be recorded during the fourth quarter ended Jan. 28, and $56 million in the first quarter."

Full column here: http://www.foxnews.com/story/0,2933,181167,00.html
Got Gold? If not, you might want to give Harvey Gordin a call at 1.623.434.3322 and find out why you should diversify at least some of your portfolio to hedge against what's coming......
Think it can't happen to you and your family? This is not an isolated case:

NewsTarget.com printable article
Originally published January 3 2006


State-sponsored medical terrorism: Texas authorities arrest parents, kidnap their teenage daughter, and force her through chemotherapy against her will


Months after a Texas teenager was diagnosed with cancer, state authorities have finally decided to let her return home to her family after a long legal battle in which Texas officials – not the girl's parents – attempted to determine the course of treatment for her disease.

Thirteen-year-old Katie Wernecke was diagnosed with Hodgkin's disease, a cancer of the lymph nodes, in January 2005. The teenager underwent chemotherapy after being taken to the emergency room with what her parents had suspected was pneumonia, and doctors recommended she also receive radiation treatments. However, Katie's parents, Michelle and Edward Wernecke, refused the treatments for fear it could cause complications such as an increased risk of breast cancer, learning problems or stunted physical growth. That's when Texas authorities intervened, making private matters public in a way that many feel violated parental rights as well as principles of health freedom.

In what amounted to an attempt to force the Werneckes to submit their daughter to radiation treatments, officials with Texas' Child Protective Services took Katie away from her parents in June, after receiving a tip that Katie and her mother were hiding out at a family ranch in order to avoid the radiation that doctors claimed she needed to survive. Authorities promptly took Katie into custody and arrested her mother on charges of interfering with child custody.

Although Michelle Wernecke was released on $50,000 bond shortly after her arrest, she returned home to find her family in shambles. The state had – in effect – kidnapped her daughter, placed her three sons in a foster home and labeled her and her husband neglectful parents, even though they were only trying to protect their daughter from conventional medicine's harsh cancer treatments. Thus began a long and difficult struggle for the family that received national attention and raised significant questions about medical freedom and parental rights.

On a June 9 episode of NBC's Today show, Michele Wernecke said of her daughter: "I think they should treat her for what her body calls for and not for standard protocol. Nobody will look at that. Not every cancer is the same. Nobody understands that. Her body is not standard, and her cancer is not standard." A videotaped statement, recorded by Katie's parents, shows the girl saying, "I don't need radiation treatment. And nobody asked me what I wanted. It's my body."

On Oct. 21, Texas District Judge Jack Hunter ruled that the Werneckes would be allowed, as they had hoped, to take Katie to Kansas for a consultation with a physician on alternative intravenous vitamin C treatments. However, the judge also ruled that, before her parents could pursue the alternative treatment, Katie must first receive five days of traditional chemotherapy at the University of Texas' M.D. Anderson Cancer Center in Houston. This once again thwarted her parents' efforts to protect their daughter from treatments they fear will result in side effects that are more harmful than her actual disease.

Throughout the Werneckes' battle with CPS and the Texas legal system, the family has maintained a blog dedicated to their daughter and her condition at http://prayforkatie.blogspot.com. There, they post news articles, charity information, letters and prayers from people concerned for Katie and disturbed by the drastic actions taken by Texas officials to keep her out of her parents' care.

An Oct. 23 post on the site reads, "Katie has been left all alone in M.D. Anderson undergoing this fourth round of chemotherapy. CPS has not allowed the parents to be present in the hospital during this treatment. I don't have the right words and enough words to express how awful I feel about that. It is unbelievably cruel and just sickening that Katie would have to suffer through that ordeal all alone with no parent beside her. That is emotional abuse and child abuse on the part of CPS."

Although the Werneckes have stuck to their beliefs about what they feel is best for their daughter's health, they have been continuously met by the threats and scare tactics used by CPS. As a result, their daughter has not only suffered through treatment she does not want – and arguably does not need – but she has done so without her parents comfort and support.

On Oct. 31, Judge Hunter finally ruled that Katie should be returned to her family, saying, "CPS and the Werneckes are never, ever going to agree," according to the New York Times. Katie will be allowed to go home after a round of chemotherapy in Houston, but what course her treatment will take after that is unknown. However, her father said at Monday's hearing that the family "wanted to try other treatments for Katie before considering radiation as a last resort," the New York Times reported.

The good news is, Katie will be able to return to her family and receive their love and support, but the decision seems long overdue. The Werneckes' situation over the past months is a prime example of how modern medicine has gotten out of control in this country. It seems we now live in a terrifying world where medical professionals are able to enlist the help of government agencies in order to force people into medical treatments that can actually pose significant health dangers. It is a climate in which diagnosis and medical treatment may be accompanied by threats and legal action for those who dare to select an alternative path of healing for themselves or their loved ones. It is an atmosphere in which parents can actually lose their sick children to the system of modern conventional medicine.

A disease like cancer is traumatic enough; it does not need to be complicated with the stresses of custody battles and legal threats. What a child really needs when suffering through something as daunting as cancer is her parents. The Werneckes may have been fighting to block the treatment of their daughter with conventional cancer treatments that can cause severe health problems, but Texas authorities, in the past months, were playing a much more dangerous game by fighting to remove Katie from the love and support of her parents, which is some of the best medicine.

Note by Mike Adams, the Health Ranger:

The events reported in this story are true. If you thought you lived in a "free" society, think again. Right now, under the direct supervision of misguided oncologists and Big Pharma drug pushers, your children can be kidnapped at gunpoint (by the "authorities"), dragged into medical facilities, and poisoned with radiation and chemotherapy, all under the orders of a court judge.

And after all that's done, by the way, they'll send you the medical bills.

With this demonstration of grossly misplaced authority, organized medicine is no longer merely an outdated system of dangerous treatments, it is a direct threat to the fundamental freedoms of individuals, families and children. With forced vaccination programs that inject mercury into our childrens' bodies, the overdosing of our nation's youth with psychiatric drugs, and now forced radiation poisoning of teenage girls, the U.S. medical system has become the most cruel and harmful system of health care in the world.

Under what possible system of "healing" would a family be broken apart, arrested, kidnapped, and the parents be denied access to the bedside of their daughter as life-threatening chemical toxins are being dripped into her veins under the orders of medical "authorities?" By what insane justification can this be called a system of health care?

The answer is that this is not a system of health care at all, folks. It's a system of control. How do you control a population? Drug them, from cradle to grave. Keep 'em in a mental haze. Bewilder them with television images. Bankrupt them with medical bills. And if they don't comply, arrest them at gunpoint and terrorize their family to set an example. I call it state-sponsored medical terrorism. In this case, the state is Texas.

Personally, I think that in a just society, the Texas Child Protective Services personnel would be arrested and charged with kidnapping, and the oncologists who took part in this cancer conspiracy would be tried in an international court for crimes against humanity. Is it not a crime to inject a child with deadly chemicals against her will and against her parents' will? If I loaded a syringe with the exact same chemicals used on this girl, and injected them into your arm without your permission, I'd be (rightly) charged with attempted murder.

Don't stand for this. Spread the word. Forward this article. Support the Wernecke family's battle against organized medicine. If we don't stand up to this, then we surrender any semblance of health freedom left in this country. Let the Texas CPS and health authorities know that we, the free-thinking citizens of this nation, won't stand by idly while our children are taken from us and chemically assaulted by men who lead a dangerous, for-profit industry of so-called cancer "treatments." This madness must be stopped.

---
February 2, 2006
I included one of Ed's letters to his state rep in one of my columns on NWVs. This is his latest contribution...I know, I'm a bit behind on posting, but better late than never and Ed's efforts deserve a Hear! Hear!
A Brief Discussion of:


The Judge David Hamilton v. Indiana Legislature Ruling
Prepared By: Ed Sparks
7 January 2006
Executive Summary:

"Following the recent release of the decision reached in the case of Judge David Hamilton v. Indiana Legislature I began an investigation to determine if that Court possessed the authority to judge the actions of the Indiana Legislature in the matter addressed. It seems that for the last 188 years a preacher of some randomly selected denomination has opened each session of the Legislature with a prayer. The Judge reached the decision that that opening prayer was unconstitutional and issued orders to the legislature as to how it should operate its opening sessions.

"My investigations revealed that this order issued by the local federal Court (Southern District of Indiana) is illegal. The federal lower Courts are created by Congress by authority invested in that body from the federal Constitution under Article I, Section 8, Clause 9. Congress is also given the right to limit all laws and facts that the Supreme Court can hear under Article III, Section 2, Clause 2. Finally Article I, Section 8, Clause 18 (The Necessary and Proper Clause) empowers Congress to organize the supreme judicial branch. This last gives Congress the authority to organize both the lower Courts and any special courts needed, such as the bankruptcy Courts.

"Congress is prohibited by the First Amendment to the Constitution from "issuing any law respecting an establishment of religion, or prohibiting the free exercise thereof." Since Congress is explicitly prohibited from addressing religion and in that it may not delegate any power that it does not possess, the Courts created by Congress are also prohibited from addressing religious matters in any manner. The decision issued by Judge David Hamilton against the Indiana Legislature is illegal. It is unconstitutional
The Brief
Judge David Hamilton v. the Indiana Legislature
Prepared by Ed Sparks

"Recently Judge David Hamilton (District of Southern Indiana) issued a decision that the prayer offered by various preachers to open each session of the Indiana Legislature was unconstitutional.

The Brief Discussion:


The First Amendment statement regarding religion is simple and concise. It states:


"Congress shall make no law respecting an establishment of religion, or prohibiting the free exercise therof; …"
"With this statement the First Amendment to the Federal Constitution prohibits Congress, and only Congress, from either establishing a religion or interfering with the practice of any religion in this country. This is a directed amendment and is a limit upon the federal Congressional creation of laws that would either create a state religion or interfere with the practice of religion in this country. It is a clear enhancement and a direct protection of State's rights. This Amendment clearly forbids Congress from entering into any regulation of the freedom of religion in this country. As such, any regulation of religion is left to the states as detailed in the Tenth Amendment. The First Amendment is a "states rights" Amendment.

"The lower federal Courts are created by Congress under Article 1, Section 8, Clause 9. That Clause states: "The Congress shall have Power To; …constitute Tribunals inferior to the supreme Court …"

"Under this Article the lower Courts are created by Congress and are subject to the same Constitutional limitations that affect and/or limit Congress. As so limited by the First Amendment (as Congress itself is limited) those inferior Courts may not interfere with the practice of religion in this country, in any way.

"Congress may not delegate a power that it does not possess.

"In 1793 the Supreme Court overstepped this limit when it affirmed the argument of Atty. General Randolph in Chisholm v. Georgia, 2 U.S. 419 (1793). In so doing it accepted his argument (and made law) that where Congress is silent, federal courts can establish "procedure prevails" by virtue of the Supremacy Clause (Article VI, Clause 2). This is a Court precedence under which Justice Hamilton's ruling falls.
"This argument has prevailed in the Courts for over two hundred years despite other parts of the Constitution that contradicts this ruling and that were ignored by the Court when it reached this conclusion. While this case involved a citizen of one state suing a citizen of another state it involved the creation of new law by the Court just as Justice Hamilton's ruling creates new law.

"Article VI, Clause 2 of the Constitution states: "This Constitution, and the Laws of the United States which shall be made in Pursuance thereof; and all treaties made, or which shall be made, under the Authority of the United States, shall be the supreme Law of the Land; and Judges in every State shall be bound thereby, any Thing in the Constitution or Laws of any State to the Contrary notwithstanding."
"There are two points to be considered here. The first is obvious and applies in this instance. In this matter Congress has issued no limiting instructions to the Courts. It is silent, and has thus failed to firmly establish the same limits on the Courts as are established upon Congress by the First Amendment. In the Justice Hamilton decision the First Amendment is the highest law in the land and the Court should need no limiting instructions. The Courts, under this clause, have ignored Article 1, Section 8, Clause 2, have seized upon this Congressional failure and used its absence to extend its reach into an area, the practice of religion, where it should not go.

"Again, Congress is prohibited from either establishing a religion or interfering with the practice of any religion. Congress cannot delegate the authority to do so to either the Supreme Court or to the lower Courts. It does not possess that authority.

"The second and the most important point: By the First Amendment Congress is expressly prohibited from establishing a religion or interfering with the practice of any religion in this country. Congress may not address either action as it so affects the states or the citizens therein. Therefore to comply with the Constitution it is forced to remain silent but only where it affects the various states or the citizens. This silence is not required where it can certainly limit the Courts transgression. For whatever reason, Congress has chosen not to act to limit the Courts and the Courts have chosen to construe this silence as giving to them the right to venture into those areas where Congress is clearly forbidden to enter. Congress must correct this omission.

"The Court has long ignored this Constitutional limitation placed upon the Congress.

"In Reynolds vs. the United States (1879) the Supreme Court confronted a federal law banning polygamy in the territories and the Court ruled protecting the belief but not the action. In this decision the Court overstepped its authority when it even ruled in this case, again a place where Congress is prohibited from addressing. Congress remained silent and the ruling was not overturned. Congress should have exercised its oversight ability, stepped in, negated the decision and removed the case and the subject from judicial view. It did not do so.

The Lower Federal Courts:

"Again the Constitution speaks: In the Necessary and Proper Clause (Article I, Section 8, Clause 18) Congress is empowered to organize the supreme judicial branch. It is, thus, undeniable that Congress is given the power by the Constitution to limit the power of the Courts.

"That clause states: "The Congress shall have Power To; …make all Laws which shall be necessary and proper for carrying into Execution the foregoing Powers, and all other Powers vested by this Constitution in the Government of the United States, or in any Department or Officer thereof."

"It is in this clause that we find the source of our special courts, the admiralty, the bankruptcy, or diversity cases, and these are but examples of the breadth of the special, limited courts that Congress may enable.

"If the Congress can both limit the law and cases that the Supreme Court can hear and can set up special limited courts then it can certainly limit any lower Court under the powers given to it under the Constitution. Again, see Article 1, Section 8, Clause 9.

"In this instance it has been shown, herein, that Congress does not possess the power to interfere with the practice of religion, a power that the local Court has assumed. Congress is limited, cannot delegate, and has not delegated, that power to the Courts. The lower Courts have assumed the power, have acted as a Legislature, and Congress has remained silent.

The Supreme Court:

"At yet another place in the Constitution (Article III, Section 2, Clause 2) we find that Congress is directly empowered to limit both the law and the cases that the Supreme Court shall hear.

"That Article states: "In all the other Cases before mentioned, the Supreme Court shall have appellate Jurisdiction, both as to Law and Fact, with such Exceptions, and under such Regulations as the Congress shall make."

"That statement, coupled with the previously listed Article I, allows Congress to place any law or case beyond the reach of the Supreme Court when and if it so desires. If it can so control the actions of the Supreme Court then it can certainly control the actions of any lower Federal Court as stated above. Congress has been silent and as such has so defaulted.

States Rights:

"In this Brief I have shown that both the Supreme Court and the lower Federal Courts have limitations placed upon them through the direct limits placed upon Congress by the federal Constitution. There is yet a second limitation.

"Each state Legislature operates within the confines of that states' Constitution. Each state Constitution lays the groundwork rules by which each legislature conducts its business within the State House and within its chambers. By its very existence, each state Constitution places a barrier between the state Legislature and the federal government, the federal judiciary and the direct actions of Congress. Congress alone recognizes the State and provides for its entrance into the Union through its own Legislative action.


"If the federal judiciary wants to address any State Legislature and question the legality of its actions it is prohibited from doing so by the existence of each State Constitution. The State Legislature cannot serve two masters. It serves the State Constitution or it serves the federal Constitution. It cannot serve both. Each State Legislatorial freedom was recognized behind the protection of the Tenth Amendment and the Congressional legislation that recognized the individual State. In accepting each State into the Union the federal government, as represented by Congress, recognized the independence of each State and that each State operated behind the protection inherent in that States Constitution.

"For Judge Hamilton to deliver a decision ordering the Indiana State Legislature to change its operation in direct violation of its own Constitution is a direct violation of the independence and individual autonomy granted each state by the federal government at the time of its admission into the Union. That State Constitution stands as a mighty wall between the individual state government and any branch of the federal government. That wall cannot be broached by the actions of a lower federal Court.

The Fourteenth Amendment:

"The Fourteenth Amendment inherently recognized this wall. It states:

"All persons born or naturalized in the United States, and subject to the jurisdiction thereof, are citizens of the United States and of the State wherein they reside."

"Thus the citizens of the various independent States became the same as and equal to the citizens of the United States. The Legislature of each State is only one step removed from the citizens of each State as is, by this Fourteenth Amendment, the Congress of the United States. Thus the Legislature of each State is safe from a judgment from any lower federal Court as local Legislature rests behind the shield erected by its own State Constitution. For any such judgment to be effective against the Indiana State Legislature that shield must be pierced by the action of the Courts. That may not happen without a direct action by the United States Congress, a Constitutional Amendment.

"In requiring that the rebellious States ratify the Fourteenth Amendment before they would be allowed back into the Union the Congress may have inadvertently provided the various State Legislatures with unequivocal protection from invasion of its independence by the federal Courts. It set the citizens of the United States as the same citizens of the various States and by inference set the State Legislatures as the equivalence of the federal Legislature. Hence, the State Legislatures are protected from, and are impervious to, actions by the federal lower Courts. (The Southern states were outside the Union when they were required, by Congress, to ratify the Fourteenth Amendment to reenter the Union. Therefore, their ratification was illegal as only States may ratify an Amendment. The Fourteenth Amendment was and is an illegal Amendment.)

Conclusion:

"Since Congress may not delegate a power it does not possess, and that the local Federal Court (District of Southern Indiana) is a creation of Congress, this local lower federal Court has exceeded its delegated authority and, properly, has no jurisdiction in this case. It, the local Court, is prohibited by the federal Constitution, through its direct Congressional limitations that includes the Tenth and the Fourteenth Amendment, from hearing or taking any action in the matter of prayers opening each session of the Legislature. In fact, Congress itself is opened at each session by a prayer. Safely hidden behind its own Constitution, the State and the State Legislature is safe from federal Court encroachment.

"Since the Court is thus prohibited from taking any action against federal citizens protected by the First Amendment, the Hamilton v. Indiana Legislature ruling is illegal, unconstitutional and invalid.

"The Indiana Legislature should have rejected, out of hand, this ruling and continued its opening prayers exactly as it has been doing for the last 188 years. It should expect no punishment and will receive none if it chooses to do so. Congress is prohibited by the First Amendment from assigning a punishment for this Court-defined offense as is every federal agency set up by this Congress. In 1812 Massachusetts chose to disregard the federal request for troops to fight in the War of 1812. Its action was ignored.

"Instead of rejecting the lower Courts action the Indiana Legislators modified its 188 year tradition and its members stood instead together for a 20 second time of silence before the Legislature was opened. We could have hoped for better action than to have our representatives cower before this lower Court and its obvious unconstitutional action. It is safe to assume that no federal marshals would show up to take over the Indiana Legislature if the leadership had chosen to ignore the local federal Courts decision.

"Congress, at some time, must address this practice of the lower federal Court to overstep its limitation. It might as well be now.

"In this country the Constitution is the cap, the limit, of all our federal laws. If we allow the Courts to rule in matters like this, where there is clear Constitutional limitation on their right to do so, we no longer have a rule by law but rule by man. To preserve our legal system the Judge Hamilton ruling must be overturned. If it is not overturned then this two-hundred year experiment in freedom is finished."

Prepared By:
Ed Sparks
Indianapolis, In. 46256
---
February 1, 2006
Hear, hear! In response to my January 30, 2006 column, 2006: Target your state legislature, this is a letter one man has sent to his Chamber of Commerce:
"Why in the world are you supporting the inclusion of 15 million illegal immigrants into a legal status when so much damage is being done to our nation over it. You should be calling for "law breakers" to be prosecuted including those businesses that hire them.

"I am a paid member of the local chamber as I own two businesses and I insist you stop this pressure on congress to legalize these illegals in our nation. This past week drug runners were accompanied by machine gun toting Mexican military personnel.

"What in the world are you doing supporting the decimation of our nation into chaos and third world, crime infested, economic destroying, disease riddled conditions????

"If this is what your using my dues for, then I will protest by withdrawing from the local chamber and campaign for other businesses to do the same. No way do I want my dues or anypart of them to be used against the American publics best interest.

"I can't fathom why you would???? Are you simply supporting and representing only big business here??? If so the millions of us who own small businesses need to find another vehicle for representing our best interest.

"I expect to hear from you within 48 to 72 hours and after that I will withdraw my membership from the local office, place a letter to the editor in the local paper telling them what your doing and then send out flyers to all business locally to form a new business partnership in selling our area and businesses to the public and do what ever I can to make your organization irrelevant in our town. If things go well, I may go regional and who knows after that. Thanks P"
As I said: These organizations only understand money and money comes from membership. Give 'em Hell, Harry!
A Message from Tom DeWeese,
Founder of Freedom21.com
Dear Friend,
The battle to save our liberties is growing more heated every day. Many of us who are trying to hold the line in defense of our Founding Fathers' vision seem to be little more than a rag-tag band of "mom and pop" groups, always desperate for cash. Meanwhile, those who seek to impose big government policies are well-funded, and in positions of great power.
It should be obvious by now that no rich foundations or big money men are coming to help us. Like General Washington at Valley Forge, with his barefoot, poorly armed and freezing troops -- we must find a new way to fight. That's where our Web site, Freedom21.com, comes in. Freedom21.com is an Internet news site. But it's much more than that. It's "Freedom's Gathering Place on the Net" and there is no other like it.
Click here to learn why Freedom21.com is different
Learn how Freedom21.com can raise funds for your group