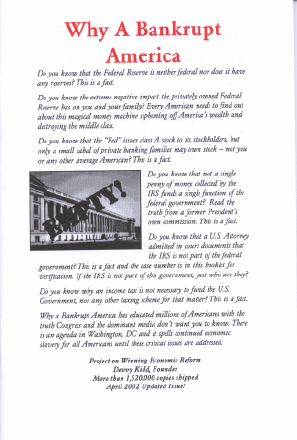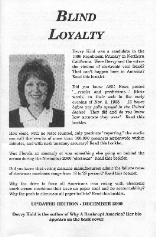 America needs 10 million Paul Revere's to spread the truth.
It's up to the people.
Get these booklets and make like Paul Revere!
A GOOD BEGINNING
LET'S COVER AMERICA WITH THESE BOOKLETS


SOLD OUT - RETIRED:

Both of Devvy's booklets have been updated. Why A Bankrupt America has "sold" in excess of 1,520,000 copies since February 1993. Devvy pays herself no royalties for either of her 45-page booklets. This new issue has a new cover for the first time since 1993, the first two pages are new as well as the last few pages which tell the Joe Banister story. It is these two booklets that Joe Banister read that led him to research the income tax issue and eventually, resign from his $80,000 a year job with the IRS because he could no longer uphold his oath of office.

STILL AVAILABLE - June 2004 - Now SOLD OUT

Blind Loyalty was first issued in July 1996 and has "sold" 450,000 copies. REVISED EDITION: January 2001. This booklet is devoted entirely to vote fraud with new pages 18-44 focusing on the "elections" of November 2000. We have no idea who is getting elected in this country. This little booklet needs to be in the hands of all Americans regardless of political affiliation. Fair and impartial elections are the right of the people and the people had better start fighting for that right before it's gone forever.

Please help us cover America with these booklets. They are a quick read, easy to understand and when you buy 100 at a time, they're only 45 cents each. Knowledge is power but only if it's shared.

This booklet is a must to convince the nay-sayers that you will never change the political landscape in Washington, DC, and the state legislatures until America demands restoration of our election process. If you think it's just at the highest levels, in this booklet you'll read what happened during a recount regarding a local ballot measure in Modesto, California - everyone watched an electronic ballot machine flip-flop votes right on television!

There are hundreds of fine books and videos on all the issues discussed on this web site. However, we all know that life's daily demands, coupled with the tragic under education of our population over the past 30 years, have made it difficult to entice folks to read a four or six hundred page book. These two little booklets are easy to read and time has shown they are extremely popular as a vehicle to introduce Americans to the subject matter. As a result, a gratifyingly huge portion of our population have then gone on to do in-depth research. This information won't get into the hands of your neighbor, work colleague, or postman from the media or any politician. It has to be done by We the People, so we hope you'll order these booklets and get them out to everyone to know. The cost of printing and shipping has kept them the single most inexpensive way to get the truth into people's hands.

The donation schedule for these booklets is on the order form.

Please make checks or money orders payable to: Devvy Kidd, P.O. Box 60543, Sacramento, California 95860. For your convenience, an order blank is available on the next page, just print it out and sent it with your donation.


Update: May 2004
Below are some of the latest headlines on electronic ballot machines. I have been jumping up and down about this since 1992. California is banning all electronic ballot machines for the November 2004 elections because they are unreliable. I rest my case and feel vindicated. Now whose the wacko?
* * * *
Diebold on the hot seat:
http://www.wired.com/news/evote/0,2645,63172,00.html?tw=wn_tophead_1
* * * *
May 5, 1:55 PM (ET)
By HOPE YEN
(AP) As alarm mounts over the integrity of the ATM-like voting machines 50 million Americans will use in...
WASHINGTON (AP) - A computer science expert criticized electronic voting systems planned for the November election as highly vulnerable and flawed, saying on Wednesday a backup paper system is the only short-term solution to avoid another disputed presidential election.
"On a spectrum of terrible to very good, we are sitting at terrible," Aviel D. Rubin, a computer science professor at Johns Hopkins University, told the U.S. Election Assistance Commission. "Not only have the vendors not implemented security safeguards that are possible, they have not even correctly implemented the ones that are easy."
Other experts said electronic voting offers advantages over paper balloting, including increasing access to the blind and people who do not speak English. They contended that backing up electronic systems with paper ballots could be costly.
"We want systems that are secure but also accessible to people with disabilities," said Stephen Berger, an expert at TEM Consulting, an engineering services consulting firm.
(AP) Palm Beach County Supervisor of Elections Theresa LePore, left, talks with DeForest Soaries Jr.,...
The first public hearing by the commission came as many states consider legislation to require a paper record of every vote cast as a backup to technology they consider potentially faulty or vulnerable to attack.
About 50 million Americans this fall are expected to use the ATM-like voting machines, which states rushed to get to replace paper ballots after Florida's hanging-chad fiasco in 2000. Critics say the touchscreen machines can't be trusted because they don't leave a paper trail.
Phil Singer, a spokesman for the presidential campaign of Democrat John Kerry, said Wednesday, "After what happened in Florida in 2000, making sure that there is a reliable paper trail in place to account for every vote is just common sense."
To help prevent mishaps, the four-member bipartisan panel is expected to issue recommendations to state and local officials, such as urging poll workers to keep a stack of paper ballots available in case electronic machines fail to operate.
"We cannot afford to have a replay of 2000, when voting systems failed to properly record voters' intent ... and when millions of Americans questioned the outcome and legitimacy of the presidential election," said Kay Maxwell, president of the League of Women Voters, who was to testify Wednesday. "Specific security measures are needed."
(AP) Secretary of State Kevin Shelley annouces he is banning the use of touch screen voting machines in...
Machines in more than half the precincts in California's San Diego County malfunctioned during the March 2 presidential primary, and a lack of paper ballots may have disenfranchised hundreds of voters.
Congress created the commission under the 2002 Help America Vote Act, which began distributing $3.9 billion to states to upgrade voting systems after the disputed 2000 election. The panel is charged with ensuring the voting process is sound, although it lacks the power to enforce any standards it sets.
The commission has said it is woefully underfunded, with only $1.2 million of its $10 million budget appropriated, prompting the commission to caution it might not have the resources to immediately forestall widespread voting problems.
Republican chairman DeForest B. Soaries Jr., a former New Jersey secretary of state named by President Bush in December to the commission, has said the panel will need $2 million more this year and the full $10 million in 2005 to fulfill its mission of restoring public faith in electronic voting.
Executives from Diebold Inc. (DBD), Hart Intercivic Inc., Election Systems & Software Inc., and Sequoia Voting Systems Inc. will speak Wednesday, along with California Secretary of State Kevin Shelley.
* * * *
Paper Backups Sought for Voting Machines
Apr 1, 4:08 PM (ET)
By ROBERT TANNER
An effort to erase doubts about new ATM-style voting machines by backing up digital votes with paper records is gaining ground nationwide, as state officials heed warnings about security and potentially messy recounts.
Four states are demanding printers that will generate paper receipts voters can see and verify, and more than a dozen other states are weighing the change. But only one - Nevada - expects to have a paper trail in place by the fall elections.
"People are just realizing exactly what we've bought into in some states," said Maryland state Sen. Andrew Harris, a Republican. "The stakes are so high. I don't put it above someone trying to manipulate elections on a grand scale."
Harris wants to fix what many in the computer science world and elsewhere see as a dangerous flaw in the touchscreen machines that will be used in up to 34 states this November.
Their worry? That voters will make one choice, and the machine - through a coding error or a hacker's manipulation - will record it as another. With no one the wiser, election outcomes could be changed.
Many election administrators and voting machine industry representatives say that such fears are misguided, and ignore the rigorous tests and trial runs - from manufacture to Election Day - that protect the vote.
But the doubters are winning support. Harris has proposed that the 16,000 new touchscreen machines that all Maryland voters will use this year be outfitted with a paper ballot printed after a person makes a choice. The voters would then get to see and verify their selection, and the ballot would be secured in case of a recount.
The idea, known as a verified voter paper trail, has been proposed in at least 16 other states as lawmakers have begun responding to months of complaints, letters of protests and security studies that found serious flaws in the ATM-style equipment.
Secretaries of state in California, Missouri and Nevada have gone further and ordered changes. And Illinois passed a law last year requiring a paper trail. Only Nevada, however, will be ready for the fall elections.
"The issue is all about accountability," said Dean Heller, Nevada's GOP secretary of state. "These votes are out there in cyberspace somewhere, and nobody can prove that they exist. The paper trail does."
Because of the state's size, California's change will have the biggest impact, though Democratic Secretary of State Kevin Shelley has given counties until 2006 to add paper ballots.
Florida election officials ruled earlier this year that new touchscreen machines put into place after the 2000 election crisis are exempt from a law that requires manual recounts in close elections - because there is no way to determine voter's intentions from the computer record.
Decisions like that scare some election advocates, sparking their push for a paper trail. (The decision also added fuel to a Florida lawsuit seeking a federal court to order the paper records. No decision has yet been reached).
Stanford University computer scientist David Dill, who runs the Web site VerifiedVoting.org, has collected endorsements from more than 7,000 people for an online petition calling for voting paper trails.
He remains hopeful that the federal government will act, though Congress has gone nearly a year without holding a hearing on several Democrat-authored measures to require a paper trail.
And there is widespread opposition to paper receipts, from election administrators, some computer scientists and even the League of Women Voters.

* * * *
E-voting flaws risk ballot fraudScientists warn of big security holes in version of software
Johns Hopkins researchers Adam Stubblefield, Avi Rubin and Yoshi Kohno were involved in the software analysis, along with Rice University computer scientist Dan Wallach (not pictured).
By Alan Boyle
Science editor
MSNBC
July 24, 2003 - Some versions of electronic voting software could allow for ballot fraud on a massive scale, computer security researchers reported Thursday. The researchers made their claim based on an analysis of computer code that was purportedly taken from one of the country's top suppliers of voting equipment. But the supplier, Ohio-based Diebold Election Systems, said it believed the software was "outdated and never was used in an actual election."
advertisement
The source code was analyzed over the past couple of weeks by researchers at Johns Hopkins University and Rice University, and their findings were posted on the Web as an Adobe Acrobat file.
"Common voters, without any insider privileges, can cast unlimited votes without being detected by any mechanisms within the voting terminal," they contended.
The code that the researchers analyzed came from a New Zealand-based Web site, with the claim that it was downloaded via the Internet from an unprotected Diebold site.
The researchers said they couldn't verify independently whether the code was currently being used in Diebold machines, and Diebold issued a statement saying "we believe that the software code they evaluated, while sharing similarities to the current code, is outdated and never was used in an actual election."

* * * *
Maryland e-voting vulnerable to hackers
System poses significant security risks, report finds
By Tom Stuckey
The Associated Press
Updated: 5:25 p.m. ET Jan. 30, 2004
ANNAPOLIS, Md. - Computers that Maryland voters will use in the March primary contain "vulnerabilities that could be exploited by malicious individuals," according to programmers who tested the equipment.
Hackers could easily compromise 16,000 touch-screen computers in precincts statewide, Michael Wertheimer of RABA Technologies told a state legislative committee on Thursday.
RABA's report, which focused on hardware, is the latest study by computer scientists to conclude that electronic systems pose significant security risks.
Dozens of states are rushing to replace punch-card and lever systems with modern voting equipment to qualify for federal matching funds through the 2002 Help America Vote Act.

Maryland is spending $55.6 million to move toward an entirely electronic system that does not provide traditional paper ballots that could be used in case of a recount.

A team assembled by Columbia-based RABA conducted an exercise Jan. 19 to simulate an attack on Maryland's touch-screens, built by North Canton, Ohio-based Diebold Inc.
Easy to gain access
Members found that individual machines could be disabled by jamming a voter card into a terminal or lifting it up and pulling out wires. The team guessed passwords on the cards that were needed to access the machines, and found the passwords were contained in the source code of the computers.
The team also said the computer server that tabulates election results did not have security updates from Microsoft Corp. Team members were able to break into the server remotely via dial-up modem.
* * * *
Fri, Apr 09, 2004 Search All NewsYahoo! News OnlyNews PhotosAudio/Video for Advanced
Panel Says Voting System Same As in 2000
2 hours, 16 minutes agoAdd U.S. National - AP to My Yahoo!
By EMILY FREDRIX, Associated Press Writer
WASHINGTON - When the nation turns out to cast ballots in this fall's elections, the voting system will be in no better shape than it was in 2000, a panel of voting experts said Friday.

Problems with electronic voting machines in this year's primaries illustrated that changes have been slow, despite the implementation of new standards meant to improve the system, panelists told the U.S. Commission on Civil Rights.
The commission, an independent bipartisan agency, has been examining the voting system since the 2000 presidential election, when the Supreme Court decided the outcome after voting problems in Florida and other states.
"Most states really won't be ready. We're ending up in '04 with the very same problems and issues that were there before," said Mary Frances Berry, committee chairperson. The group plans to study the issue of election reform in the fall, shortly before the November elections.
* * * *
An insider's view of vote vulnerability

By Avi Rubin

Originally published March 10, 2004
I BECAME EMBROILED in the national debate about electronic voting security when I co-authored a report exposing serious security flaws in Diebold Inc.'s AccuVote-TS machines.

The day before we released our report in July, Maryland officials announced that they were buying $55.6 million worth of these machines. Rather than asking me to work with them, which I offered to do several times, state officials immediately targeted me with criticism and discounted my findings. They continue to do so despite three subsequent studies, two of them paid for by the state, which confirmed our initial findings.

The main problem with electronic voting machines that do not provide voter-verifiable paper ballots is that they are entirely controlled by software.

I worked as an election judge during the March 2 primary in Baltimore County. It was the best thing I could have done to learn about election security. While some of my previous security concerns appeared less threatening given the procedures we followed, others seemed worse.

My July report suggested that a voter could create a bogus voter access card, or smart card, in a garage and cast multiple votes. The procedures in place at the polling site most likely would catch this. We counted all of the voter authorization cards every hour and compared them with the number of votes counted by the machine. We also counted the totals on the machines hourly and compared them with the totals in the registration roster that we used to check in the voters.

If any voter managed to vote multiple times, it would be detected within an hour. I have no idea what we would do in that situation, but we'd have a serious problem on our hands. But at least we would know it. I was amazed at the number of counts and pieces of paper that we shuffled throughout the day in what was billed as a paperless electronic election.

But the way votes are tallied at the poll site and sent electronically to the central tallying location for all the precincts is much more vulnerable than I previously thought. Each of the voting machines at the precinct contains a memory card on which votes are tallied. When the polls close, all of the cards are removed and loaded, one at a time, onto one of the machines. This machine is then connected to a modem, and the vote tallies are transmitted to a central server at the Board of Elections.

My research team observed that the encryption of the modem connection was carried out incorrectly in the Diebold machines so that anyone able to tap the phone lines would be able to tamper with the tally and change votes. In my precinct, the phone line didn't work; the memory cards were taken to the Board of Elections office by the chief judges.

Software is highly complex. I have observed that large software packages are so complex that there is no way to successfully examine a program for malicious behavior. So if voting machine vendors wanted, they could control the outcome of the election with no one ever knowing that the results had been programmed into the voting machines.

Further, there are well-funded foreign powers that would not hesitate to bribe or threaten a programmer to rig the machines so that the outcome of the election went a certain way.

After my experience as a judge, I still believe that the Diebold machines, and ones like them from other vendors, represent a major threat to our democracy. We have put our trust in the outcome of our elections into the hands of a few companies (Ohio-based Diebold Election Systems, Sequoia Voting Systems, which is based in California, and Election Systems and Software in Omaha, Neb.).

They are in a position to control the outcomes of our elections, and there's no way anyone can know if they, or someone working for them, did something underhanded. And meaningful recounts are impossible with these machines.
Voter-verifiable paper ballots could counteract these problems.

We have great people working in the trenches and on the front lines on election days. They are ordinary people, mostly elderly, who believe in our country and our democracy and work like crazy for 16 hours, starting at 6 a.m., to try to keep the mechanics of our elections running smoothly. It's a shame that the e-voting tidal wave has a near-hypnotic effect on these judges and almost all voters.

I am much better equipped after having been a judge to argue against e-voting machines. But I also greatly appreciate how hard it's going to be to fight them because of how much voters and election officials love them.

My biggest fear is that Super Tuesday on March 2 will be viewed as a big success. But the more electronic voting is viewed as successful, the more it will be adopted and the greater will be the risk when someone decides to exploit the weaknesses of these systems.

Avi Rubin, a computer science professor at the Johns Hopkins University specializing in security, cryptography and e-voting, is technical director of the school's Information Security Institute.

Copyright © 2004, The Baltimore Sun